Have a pressing kitchen design question? For the next 48 hours, Jerome Buttrick of Buttrick Projects (formerly Buttrick Wong Architects), a member of the Remodelista Architect and Designer Directory, is on call to answer your queries. If you've survived a kitchen remodel (or a start-from-scratch project), you know the complexities–and the value of an architect's input. Here's a chance to learn from the expert; post your questions in the comments section below.
Buttrick is a veteran of at least 50 kitchen projects, both remodels and new builds (including Remodelista editor Julie's kitchen). A NYC native, Buttrick studied architectural history at Northwestern, got his degree in architecture at Harvard, and now lives and works in Oakland (fun fact: he's the great grandson of Stanford White–how's that for pedigree?).
For a recent kitchen remodel in the Rockridge area of Oakland, Buttrick worked with a client to accommodate a hectic and informal lifestyle. The problem? A too-small kitchen, unconnected to the living spaces of the house. The solution? An expanded indoor/outdoor kitchen and dining space (incorporating a small office area) that opens to the garden.
Above: One of our favorite details in this kitchen: Buttrick designed a custom stainless-steel sink with a clever integrated drain board that frees up counter space for food preparation.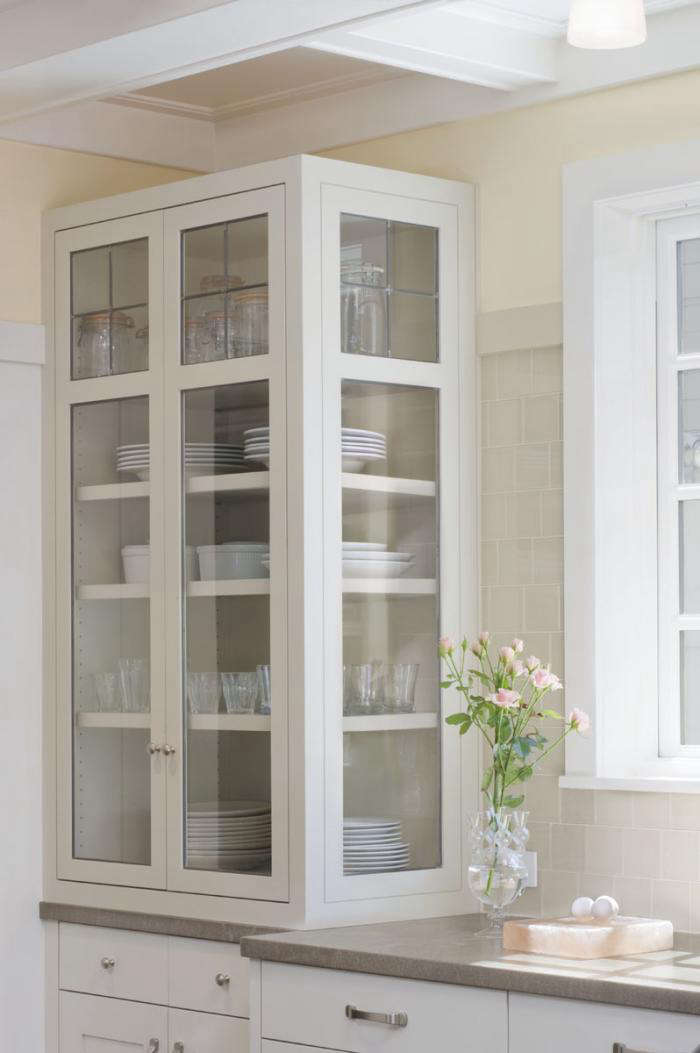 Above: Buttrick used glass tiles from Ann Sacks on the walls and a hard limestone for the counter tops. The glass apothecary-style cabinets add a sense of lightness and serve as display cases.
Above: While Buttrick provided the family of serious cooks with a functional kitchen, he wanted to avoid a predictable kitchen. He moved the refrigerator to the pantry and used key furniture elements (a custom built-sideboard, which is integral to the kitchen island; tall apothecary glazed cabinets) to reduce the overall "kitchen read."
Above: A small office area in the kitchen remains in keeping with the rest of the design.
Above: The pantry provides overflow for storage (and a clever location for a refrigerator) as well as an additional sink and a pair of dishwashers; leaving as much working counter space in the main kitchen as possible.
Above: The opening to the rear garden is 18 feet wide, and Buttrick installed a full-height, wooden folding door to maximize the sense of indoor/outdoor flow. Single pane leaded glass at the top of the doors recalls the Craftsman details in the hall and stair.
(Visited 19 times, 1 visits today)