"It has never not felt spiritual. From the very first time I walked into the space five years ago—when it wasn't even my studio!—I felt an affinity for it. It feels sacred. Everyone who visits says something similar. I believe in the energy of places. It's nurturing and warm and welcoming."
Artist and creative director George McCalman is waxing rhapsodic about the studio space he shares with ceramicist Georgia Hodges in San Francisco's Outer Sunset. It's here, in this stripped-down, soulful floor of a ramshackle building, that he became an artist: "It's a place of engagement on a daily basis. It gave me what I needed to slip into who I am," he says.
For a long time, George considered himself solely a creative director. (A veteran of the magazine world, he struck out on his own in 2011, launching creative branding studio McCalman.Co.) But in 2016, he found himself rekindling his love for drawing, which ultimately led him to his own monthly illustrated column for the San Francisco Chronicle. It was around that time that his then-boyfriend urged him to find a dedicated spot for his fine art pursuits: "I was working at cafes, at my boyfriend's house, at my dining table. He kept saying, 'You need a space to get dirty.' "
So when Georgia asked him if he'd like to be her studio mate (the artists formerly sharing the space with her had moved on), he didn't hesitate. "I was just dazzled by the place. It was raw. The walls weren't finished. It was an ode to process." Here, five blocks from Ocean Beach, George drew portraits of Black pioneers—ultimately turning the drawings into a tour de force of a book for HarperCollins: Illustrated Black History: Honoring the Iconic and the Unseen hit bookstores in September and is already in second printing.
Below, he gives us a tour of his shared studio—a space he likens to church, a place where he can stretch out and make a mess, a room to call his own.
Photography by Baidi Kamagate.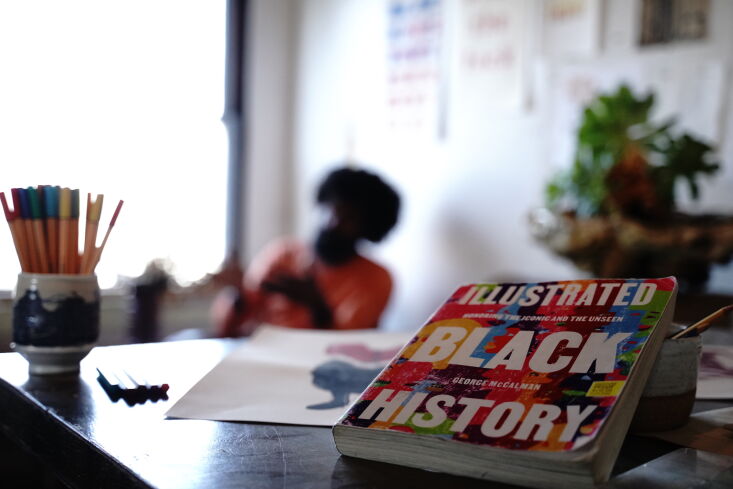 For more studio visits, see:
(Visited 285 times, 1 visits today)