A screened porch sets the stage for the perfect summer evening: lazy, breezy, and ideally accompanied by a glass of wine and a group of fellow lollers. The best part? No insects allowed.
Architects Calvin Tsao and Zack McKown's screened porch at their weekend place in Rhinebeck, New York, stands out as a model of the form. When the two renovated their house, a farmer's cottage, they introduced a pleasing blend of green walls (so dark they border on Gothic) and midcentury Danish antiques. We studied the ingredients that make Tsao & McKown's porch so appealing and sourced the key elements. Whether or not you happen to have a porch, here's how to create a similar indoor/outdoor look.
N.B.: For our Steal This Look on the interior of the house, see Danish Modern in Upstate New York.
Above: From a distance, the exterior wash of forest green paint reads as almost black. Photograph by Richard Powers for Tsao & McKown Architects.
Above: A welcoming collection of mismatched antiques. Photograph by Richard Powers for Tsao & McKown Architects.
Above: Sculptural wood bowls and other pieces work well with the wooden furniture. Photograph by Richard Powers for Tsao & McKown Architects.
The Essentials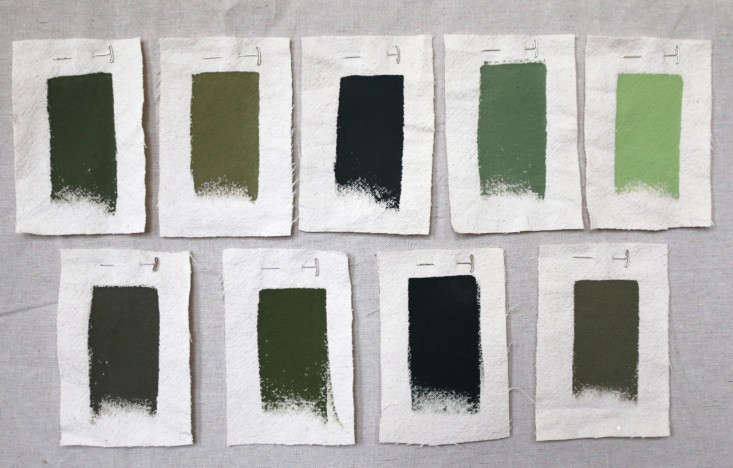 Above: The screened porched is a mix of dark green paint colors. Re-create the palette with Benjamin Moore's Cedar Path 454 on the walls and ceiling, and Farrow & Ball's Studio Green, an almost-black green, as an accent color. For more options, have a look at our Gardenista post Seeing Green: Architects Pick the Best Exterior Green Paints.
Above: A favorite freestanding stove, the Rais Gabo Wood Stove, has a curved front and a well-sealed firebox that ensures optimal combustion control. It incorporates a convection grate above the combustion chamber and wood storage space underneath. Available in black or gray steel; $3,890. Contact Rais to locate a dealer near you. For other options, see 10 Easy Pieces: Freestanding Wood Stoves.
Above: A series of six porcelain ceiling mount fixtures illuminate the screened porch at night. We like Schoolhouse Electric's Alabax Small Surface Mount Fixture, handmade in Portland, Oregon; $85 each.
The Furniture
Above: The Mc & Co Daybed, designed by Corinne Gilbert & Dan McCarthy, is made of one-inch-thick unfinished cedar; it can also be custom ordered in ash, oak, walnut, and pine. It's 40 inches deep, 27 inches tall, and 76 inches wide, and fits a twin-size futon. Pricing starts at $3,900 without a futon, and $4,200 with a premium futon. For more options, see High/Low: The Modern Wooden Daybed.
Above: A handmade rawhide snowshoe rocking chair we sourced from a variety of sites; this vintage Vermont Tubbs Snowshoe Chair is available on 1st Dibs. Another source is Iverson Seek Wilderness, which also offers upright snowshoe chairs.
Above: DWR's Skagen Nesting Tables, inspired by midcentury designs by Arne Hovmand-Olsen, are made of solid walnut; $578 for the set.
The Accessories
Above: West Elm's Silk Hand-Loomed Pillow Covers in an array of muted neutrals are $44 each.
Above: From LA design firm Commune, Kilim Pillows are made from reclaimed kilim rugs; contact Commune for pricing and availability.
Above: This natural Linen Bolster Pillow comes in 16 colors; $75 from Lovely Home Idea on Etsy.
Above: From Signature Hardware, the Brilliant Stainless Steel Watering Can with Brass Accents is $53.95.
Above: Victoria Morris' Brown Bowl with Lavender Glaze is $425 for the extra large bowl measuring 5 inches high by 13.5 inches diameter at March in San Francisco.
Above: The BDDW Firewood Holder is made of steel and canvas, and comes with a bundle of scrap wood from the furniture company's studio; contact BDDW for more information and pricing.
Above: Tsao and McKown sourced a vintage iron doorstop. An alternate is the Tetu Iron River Stone Door Stopper in cast iron, designed by Japanese architect Makoto Koisumi; $75 CAD from Mjölk in Toronto. The doorstop is also at Anaí¯se in California for $70.
For more screened porches, see Gardenista's Summer Screened Porch Roundup. And how about a porch for the night? See 5 Screened Sleeping Porches. Tsao and McKown head up the firm Tsao & McKown Architects. Have a look at the multigenerational gathering place they designed for Tsao's family in our post Common Ground: A Chinese-Style Family Compound in California.
N.B.: This post is an update; the original story ran on July 1, 2014, as part of our Block Party issue.
You need to login or register to view and manage your bookmarks.