When it comes to home design, sometimes streamlined simplicity and ease is the goal; fashion and textile designers, for instance, often favor neutral spaces to counteract the daily visual cacophony they're exposed to in the workplace. In yesterday's Designer Visit: Faye McAuliffe in Venice, we admired McAuliffe's low-key style and easy way with midcentury design classics (Eames, Platner, Saarinen) mixed with pieces from local designers like Brendan Ravenhill. McAuliffe's clients "wanted a relaxing space to come home to after a long day," as she says. "I implemented a subtle color scheme, focusing mainly of textures and finishes, so as not to compete with the original details of the house."
LIGHTING
Above: Made of hand-cast plastic, steel, wood, and a 10-foot-long cloth cord, the Cord Lamp is $220 directly from Brendan Ravenhill. "The Cord Lamp is an evolutionary descendant of Jean Prouve's Jib Arm Lamp; the simple structure of the Cord Lamp allows it to fold flat and pack into a standard poster tube."
Above: A Lotus Floor Lamp by George Nelson; $399 at YLighting.
FURNITURE
Above: Made in California, the Mash Studios LAX Wall-Mounted Shelf is $730 at YLiving.
Above: UK designer Matthew Hilton's ingenious oak Cross Extension Table can be expanded from 78.75 inches to 116 inches; $3,500 at Design Within Reach.
Above: The Eames Wire Base Table with black laminate top is on sale for $177 at Room & Board.
Above: The Platner Coffee Table features a metal base with a tempered glass top; $1,425 at Design Within Reach.
RUGS & TEXTILES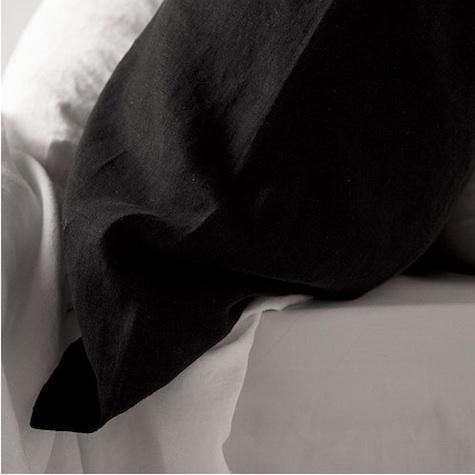 Above: McAuliffe sourced linens from LA-based Matteo; the simple white Bellows Duvet Cover is $222.50 for the queen size and the Coal Homespun Sham Pair is $195 for the queen size, directly from Matteo.
Above: McAuliffe used soft gray heathered Bjork Rugs with leather edging from Design House Stockholm; prices start at $250 for the small size at Amazon.
(Visited 1 times, 1 visits today)