Venice, CA-based Faye McAuliffe of You Are the River "grew up in a minimalist household full of original art, which shaped my design aesthetic," she says. After studying fine arts and fashion design and then working as a wardrobe stylist, McAuliffe segued into interior design. "I am constantly redesigning my own space and have been doing so for as long as I can remember. Friends and coworkers started asking me for advice on what they could do with their own rooms, homes, offices, and gardens. I love working with them—and their artifacts—and helping them to discover their own personal style."
For this project, McAuliffe designed the interiors for a couple in the entertainment business who were burned out after a renovation that "brought the house up to date but left them exhausted and unable to get to the the next step," she says. "They wanted a relaxing space to come home to after a long day. I implemented a subtle color scheme, focusing mainly of textures and finishes, so as not to compete with the original details of the house." See more at Faye McAuliffe Design.
Photos by Pascal Shirley.
Above: "The house was built in 1978 by architect Frederick Fisher, while he was working under Frank Gehry," McAuliffe says. "The homeowners kept many of the original details, including industrial materials like chain link fence, as well as the towering exposed ceilings, which are meant to reference the underside of a boat."
Above: A Lotus Floor Lamp by George Nelson.
Above: "When you're standing in the living room, you can see almost every other room in the house, so it was important to make the space feel cohesive," McAuliffe says.
Above: The Cross Extension Table, by UK designer Matthew Hilton, anchors the dining space.
Above: A set of Marko dining chairs surrounds the dining table.
Above: A wall-mounted Cord Lamp by LA designer Brendan Ravenhill provides illumination.
Above: A pair of farmhouse-style tables anchors the workspace.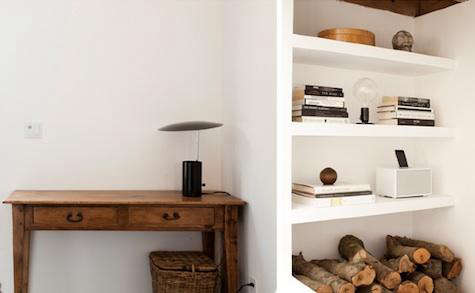 Above: A detail shot of the workspace.
Above: A floating sideboard provides storage opportunities.
Above: The exposed-beam ceiling adds a note of rusticity to the minimalist bedroom.
Above: McAuliffe used a simple palette of white linens with contrasting black throw pillows in the bedroom.
(Visited 148 times, 1 visits today)