It's all very nice that Matthew can miraculously walk again, and that Lavinia conveniently died of the Spanish flu to clear the way for Mary to marry the heir and keep Downton Abbey in the family. But while many plot twists were resolved during the second season of my favorite British soap opera, one big question remains: Why don't they shoot more scenes in the garden?
Above: Highclere Castle, which lies to the west of London, was chosen as the setting for the fictional Downton Abbey because its grand sprawl testifies to "the confidence and soaring optimism of the Edwardian period," the series' creator says. Image via Highclere Castle.
Above: The castle's White Border, with ornamental pears, Lily of the Nile, hydrangea bushes, and roses, relies on nothing more than hardy, old-fashioned garden workhorses. The planting scheme, for full sun, is easy to re-create in a temperate growing zone. Image via Highclere Castle.
Above: First, some structure. At the front of a perennial border, a shrub like Hydrangea arborescens 'Annabelle' will boss around lacier flowers with its blowsy pompons. But in a nice way. Like many woody shrubs, it may take a couple of years to get established; available seasonally ($18.95 from Wayside Gardens). Image via White Swan.
Above: One lovely attribute of Lily of the Nile is that it attracts butterflies. With its long, graceful stalks, Agapanthus africanus 'Albus' (available seasonally from Monrovia) provides a contrast in textures when planted near the unruly mound of a snowball hydrangea. Image via Royal Horticultural Society.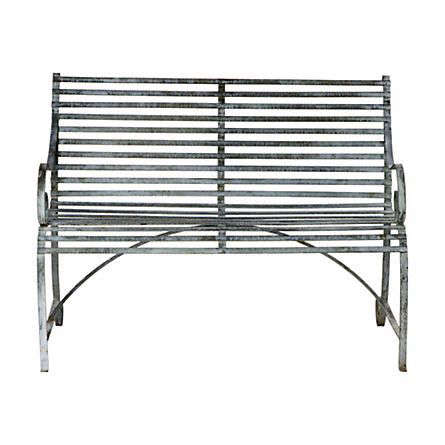 Above: You've done enough for one morning. After all, you did go to the trouble of splitting the pot-bound agapanthus root balls with a sharp spade so they could breathe again, didn't you? Relax on an Ironwork Garden Bench ($1,358 via Terrain), positioned to provide an advantageous view of your handiwork.
Above: On to the white roses. Far be it from me to tell you which to buy, because fragrance is a very personal choice. But you won't go wrong with a damask shrub rose like 'Mme Hardy' ($18.95, at David Austin Roses). Its heady perfume may remind you of the violet scent your grandmother dabbed on a handkerchief, and isn't that why you have a garden in the first place? Image via Gardenweb.
Above: If Mary lived in the present, we feel certain she'd serve tisane in the garden using a Glass Herbal Teapot from the Wolseley in London (£77 from the Wolseley's online shop).
Above: Edge the perennials with a very British carpet of close-clipped sod. Image via Highclere Castle.
Above: We recommend you keep the grass groomed with a Reel Mower ($84.50 via The Energy Conscious). It makes such a civilized clip-clip sound.
Above: Yes, of course you may have an ornamental pear. Image via The Garden Wanderer. And as you may remember, we recently shared some thoughts about how to train an espalier.
(Visited 10 times, 1 visits today)