I like to think of my apartment as an atelier–not a studio, an atelier–which is no doubt part of the reason I find the photos of this dinner party so appealing. Held in a lofty, skylit artist's studio in East Nashville, Tennessee, the event was designed and styled by Jenn Elliot Blake of A Blog Named Scout for Anthology Magazine. Complete with painter's drop cloths, splatter-painted brushes in earthenware jars, wild vines, and, of course, art on the walls, the whole scene is something we'd like to re-create.
Atelier photographs by Amy Dickerson courtesy of Anthology Magazine.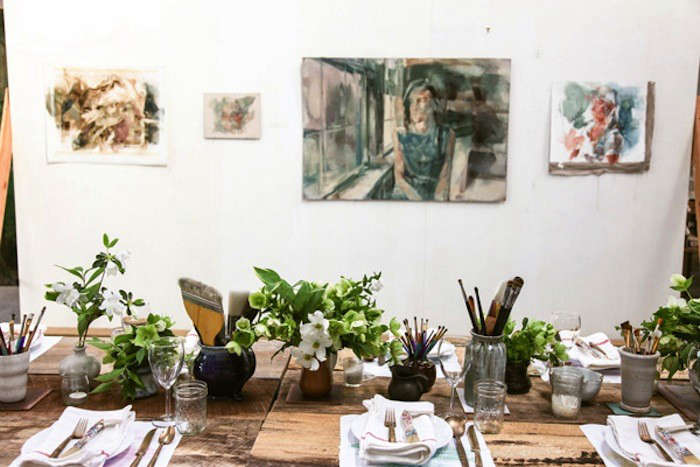 Above: Re-create Sloane's homemade table with Ikea's birch Norden Extendable Table, which seats up to 10; $299. The accompanying Norden Benches are also made of birch; $79 each. Or create your own table from found parts: See DIY: An Old-Meets-New Dining Table (for Under $125).
Ready to take the look to the next level? Try:
This post is an update; the original ran on November 23, 2013, as part of our Dining and Entertaining issue.
(Visited 243 times, 1 visits today)