Lessons in moodiness from a dining room in Lyon, France, designed by Stéphane Garotin and Pierre Emmanuel Martin, the couple behind Maison Hand. The somber yet elegant Saint George apartment is outfitted with modernist furniture and an austere palette: a Maison Hand trademark. Here we look at the individual components of the dining room–the furniture, wall decor, and accessories–and offer our ideas on adding a certain modern French goth look to your own interiors.
Above: Rush seats, a grouping of pottery, and white-painted beams are the only nonblack moments in the dining room.
Above: A wall of tonal, macabre artwork and taxidermy.
Above: We like the way Maison Hand deftly contrast pale artwork and ceramics against a blacked-out wall.
The Basics
Above: Farrow & Ball's Pitch Black is a similar match to the wall's matte black color. A gallon of the estate emulsion Pitch Black paint is $97. Another trusted black paint is Benjamin Moore's Black Horizon; a gallon is $37.99.
Above: The Serge Mouille Two-Arm Ceiling Lamp in black lacquered aluminum is $3,250 at Horne.
Above: Crate & Barrel's Facet Sideboard is black-stained with a low-sheen finish; $699.
Above: Restoration Hardware's Seagram Rectangular Dining Table is designed by Sí¸ren Rose in black oak; $3,495 for the 96-inch table (stay tuned for tomorrow's 10 Easy Pieces: Distressed Furniture in Black for more options).
Above: A similar chair with a paper cord seat is Hans Wegner's Wishbone Chair with a black lacquered frame; $599 at Design Within Reach.
Above: The Hand-Braided Jute Rug in dark charcoal is $1,395 for the 9-by-12-foot size at Restoration Hardware.
Wall Decor
Above: Thin black Gallery Frames range in price from $12 for the six-by-eight-inch size to $99 for the 16-by-20-inch size at West Elm.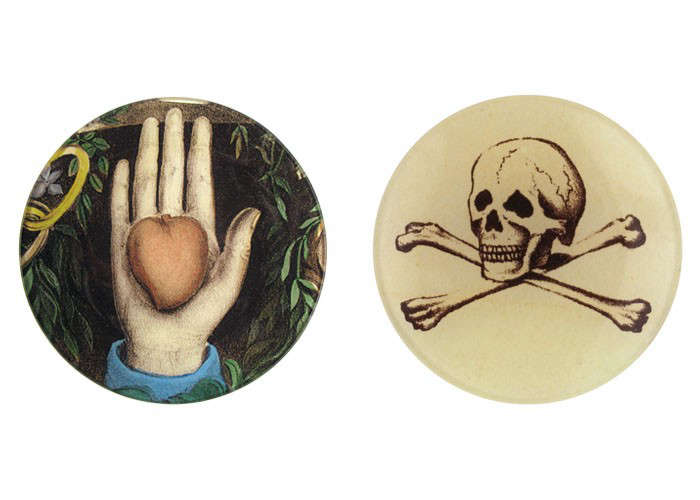 Above: John Derian's Decoupage Wall Plates: the Heart in Hand Plate ($50) and Skully Plate ($48).
Above: From Paxton Gate in San Francisco, an Antique Mounted Skull Cap is $150.
Accessories
Above: The Cestita Table Lamp by Miguel Mila is a smaller version of the designer's popular Cesta Lamp. It's made of Sumatran pine wood and a plastic lampshade; $340 CAD ($258 USD) at Mjölk.
Above: Alissa Coe's Cone Vase in rough, unfinished pale porcelain is $250 CAD ($190) at Mjölk.
Above: A mouth-blown candlestick holder from Paris glass studio La Soufflerie. Read our post Design Sleuth: La Soufflerie's Handblown Glassware and contact the studio for pricing and availability.
Above: Dripless and Smokeless Taper Candles from Cire Trudon in black are $17 for a box of six at The Line.
Above: Heath Ceramics' Dessert Bowls in Onyx from the Coupe Line are $25 each.
Above: From Canvas in New York, simple Fat Glasses are $11.50 each.
For more moody rooms to steal, see our posts: