Cue the cigar smoke and the gold watch chains. Master set designers Roman and Williams have recast the grand Chicago Athletic Association on Michigan Avenue–right across from Millennium Park–as a playfully posh hotel, Venetian-gothic details intact. Look no further for the perfect place to hole up on Halloween weekend.
Photography via the Chicago Athletic Association Hotel.
Above: Once a gathering spot for Wrigleys, Fields, and Spaldings, the 1890s building was designed by Henry Ives Cobb. Shuttered in recent years, it came close to having all but its facade demolished. Owners Commune Hotels & Resorts hired Chicago firm Hartshorne Plunkard Architecture to oversee the restoration, and Roman and Williams to inject the rooms with new life. Shown here, the pleasingly time-warped drawing room.
Above: A reading room with original paneling and stained glass. Photograph via HPA Architecture.
Above: The 241 rooms have custom metal bed frames and Faribault Woolen Mill blankets woven with the quote: "I miss everything about Chicago except January and February."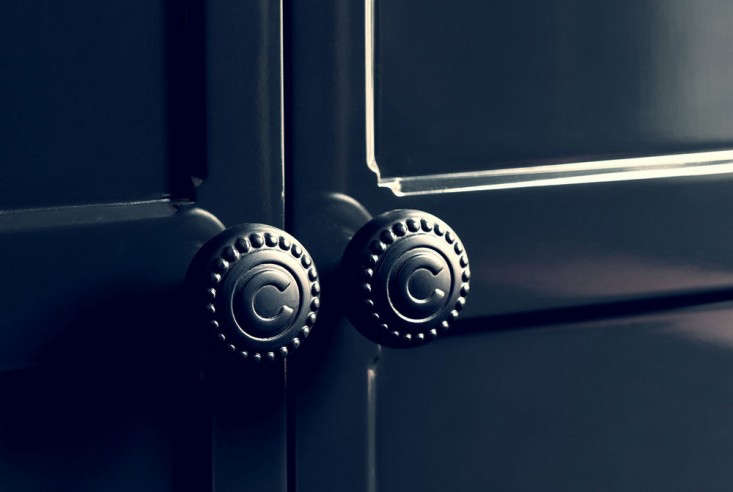 Above: Monogrammed knobs on a lacquered wardrobe in a guest room.
Above: Referencing old-school gym equipment, Roman and Williams designed desks inspired by wooden stretching racks and pommel-horse-shaped benches. Here and there they also inserted cheeky paintings. "A touch of disorder within the order keeps a space fresh," say the designers. (Go to 10 Favorites: Vintage Gym Equipment as Decor for more.) "
Above L: The racks are cleverly hung with leather storage pouches. Above R: A preserved floor monogram incorporates a fencer's foil.
Above: The top-floor restaurant, Cindy's, is in a new greenhouse-like addition, modeled after the botanical garden glass houses of the 19th century. "The space is a romantic notion of what might have been on this site before the wave of development swept the fields by the lake," say Roman and Williams.
Above: The newly restored Venetian-gothic building rises for 13 stories. It's located at 12 S. Michigan Avenue overlooking Millennium Park. Go to the Chicago Athletic Association Hotel for full details.
For another Roman and Williams design in a dramatic historic building, take a look at New York's High Line Hotel in Chelsea. Heading to Chicago? Peruse our city guide for more finds.
(Visited 29 times, 1 visits today)