For her latest collection, global designer Laura Aviva of L'Aviva Home collaborated with a women's craft collective in Hazaribagh, in northeastern India, transforming their temporary murals painted on the exterior of their mud houses into wallpaper and textiles.
"The mural painting is part of a matrimonial ritual for the women that takes place in the spring. Every year, the murals are washed away by the monsoons and then started anew," Laura tell us. "Drawn to the exaggerated scale and the boldness of the designs, we commissioned women in the villages to make paintings for us that we've translated into our Khovar Collection. There's something so profound and beautiful about art that is intentionally impermanent. I love the fact that this collection respects that tradition while extracting some permanence from it."
Above: Khovar Collection Flower Wallpaper is $12.50 per square foot and each order is custom printed on clay-coated paper to fit the project dimensions.
"It's digitally printed here in the US," says Laura. "We had looked at silk screening in India, but found that the best way to keep the integrity of the original paintings and carry through the detailed brushstrokes was by digital printing–not as sexy as silk screening but a more authentic representation."
Above: The collection features three designs, Leaf, Flower, and Vine, and each is also printed on heavyweight natural linen and available as pillows and yardage.
Laura commissioned the designs from TWAC, the Tribal Women Artists Cooperative. "It was started by an incredible man named Bulu Iman. One of the motivations behind the formation of TWAC was to help give the women a sense of pride in their tribal identity and their art, and to incentivize them to preserve traditions."
Above: The Pillows are 22 by 22 inches with one-inch flanges and come with feather/down-filled cushions; $310 each. Custom sizes can be stitched.
Above: A detail of the Vine pattern. The fabric in this collection is printed on 54-inch-wide, 100 percent linen; it's $150 per yard.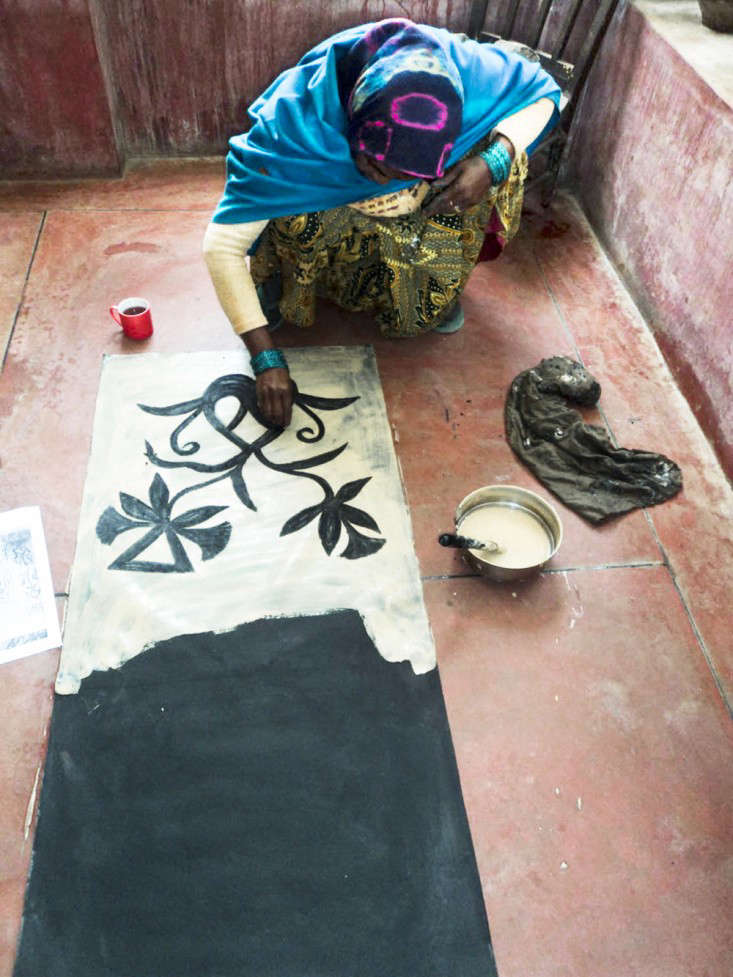 Above: A L'Aviva Home design in progress. Like the murals that inspired them, the patterns are created on a dark background. As Laura explains: "A canvas of charcoal earth is laid down and then covered with pale kaolin clay. Before the top layer dries, the artist brushes away the lighter layer with a comb or fingers to create lyrical silhouettes." 
See the full collection at L'Aviva Home. And also take a look at the company's Moroccan Pom-Pom Blankets, Colombian Poufs, and Sisal-Alternative Rugs.
(Visited 13 times, 1 visits today)