If you've been following our love affair with designer Niki Turner, you might remember her French baroque house in Stroud, Gloucestershire, and our Steal This Look on the upstairs bath. Today we're looking at her low-key living room, which is full of charming moments: colorful velvet pillows, a DIY bookshelf, bountiful baskets, and capacious sofas. Here is a list of ideas for re-creating the look.
Above: The room is painted a uniform shade of bright white.
Above: Vintage lighting, a bookshelf made of crates, and mountains of hand-dyed pillows.
Above: A cluster of baskets in the bay window provide storage opportunities.
Paint
Above: The living room is painted in Slate 1, a paint color from the Paint & Paper Library; £75 ($92) for five liters.
Above: Farrow & Ball's Mole's Breath paint is the color of the room seen beyond the living room; $99 for a gallon.
Furniture
Above: Cisco Brothers' Luccia Sofa is available in two sizes with different upholstery options (shown in Matteo Dark Grey Velvet). Contact Cisco Brothers for pricing and dealer locations. More options for a traditional velvet sofa are Restoration Hardware's Belgian Roll Arm Upholstered Sofa ($2,295) and West Elm's Esch Upholstered Sofa ($3,699).
Above: Book/Shop's LB1 in solid ash stores book underneath the tabletop and is handmade in FSC-certified solid American walnut or solid American ash; $750.
Above: The bookcases in the living room are made of stacked vintage cheese boxes. You can source plenty of them on Etsy or put something similar together through simple wooden boxes such as The Crate by Jasper Morrison which is made yellow pine; £120 ($150 USD).
Lighting
Above: The Lampe Gras 222 wall light from Heal's is £295 ($361).
Above: The City Glass Pendant has a bronze and glass shade; $199 from Pottery Barn. For more, see our post 10 Easy Pieces: Glass Pendant Lights.
Above: Anglepoise's Original 1227 Task Lamp in black is $285.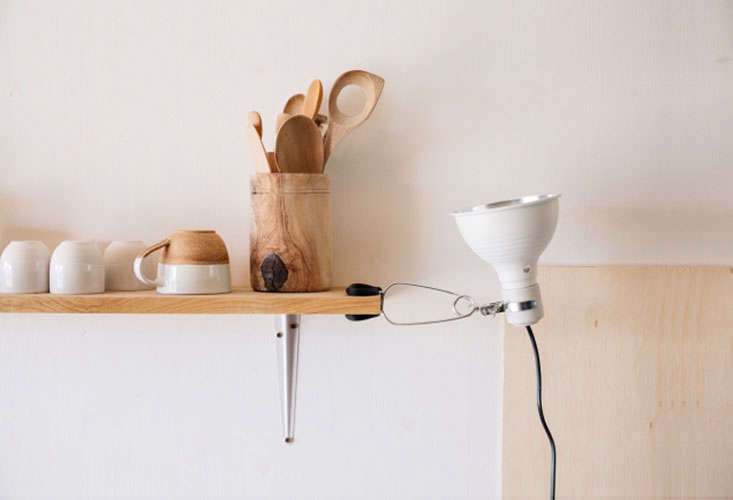 Above: A similar industrial White Clamp Lamp can be sourced from Le Repère des Belettes in France for €19.90 ($22). For more ideas, see our post 10 Easy Pieces: Clip-On Lights.
Accessories
Above: Restoration Hardware's Washed Belgian Linen Drapery ranges from $209 to $549, depending on size. For a cotton option, Pottery Barn's Cameron Cotton Pole Pocket Drape Curtains start at $39 a panel.
Above: Turner fills her living room sofas with hand-dyed velvet pillows from designer Kristen Hecktermann (the pillows are a coveted item around the Remodelista office). Shown here is Hecktermann's Cactus Double-Sided Velvet Cushion Cover; £75 ($92) for the 18-inch size.
Above: The Double-Sided Velvet Saffron Yellow Cushion Cover is £78 ($97) for the 20-inch size.
Above: The Idle Blue Cushion Cover is £68 ($83) for the 20-inch square size.
Above: The Morsø 2110 Freestanding Stove is available through authorized Morsø dealers. For more ideas, see our post 10 Easy Pieces: Freestanding Woodstoves.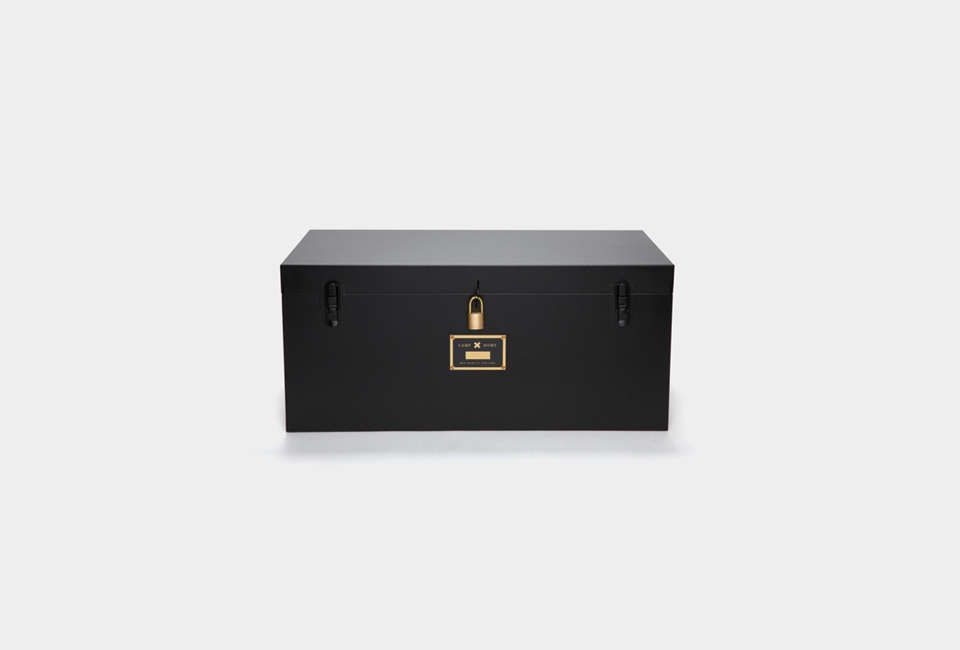 Above: Best Made Co.'s Footlocker box can be used as a storage bench or side table, blanket box, or as a large tool chest; $198.
Above: The Large Woven Seagrass Basket is 20 inches in diameter and 18 inches tall; on sale for $82.97 at Wisteria. A similar basket is a handwoven Large Circular Log Basket from Rush Matters in the UK.
Above: A Natural Black Icelandic Sheepskin from Black Sheep (White Light) is $220 at The Line.
Above: The Blue and White Geometric Square Dog Bed from Filly Dog Co., a seller on Etsy based in Utah, starts at $99.
For more on Turner, see our posts:
(Visited 401 times, 1 visits today)