After years of creating textiles and costumes for film sets and magazines (including many features in The World of Interiors), London designer/stylist Kirsten Hecktermann launched her own lines of spoons and textiles for the home. The spoons are designed by Kirsten and handcrafted by artisans in her father's shop on the Kenyan coast, where she grew up. Her hand-dyed textiles are available in an array of fabrics, from linen to velvet. Though distinctly different mediums, both her spoons and textiles bear her signature look of sumptuous texture mixed with elegance and restraint. Kirsten will be showing her latest work at the Remodelista London Market this Saturday, November 15.
Photography courtesy of Kirsten Hecktermann.
Above: Kirsten's cushions are hand-dyed in an ever-changing array of subtle hues. Toroque One (the turquoise shade) and others shown here are £64 each ($101.68).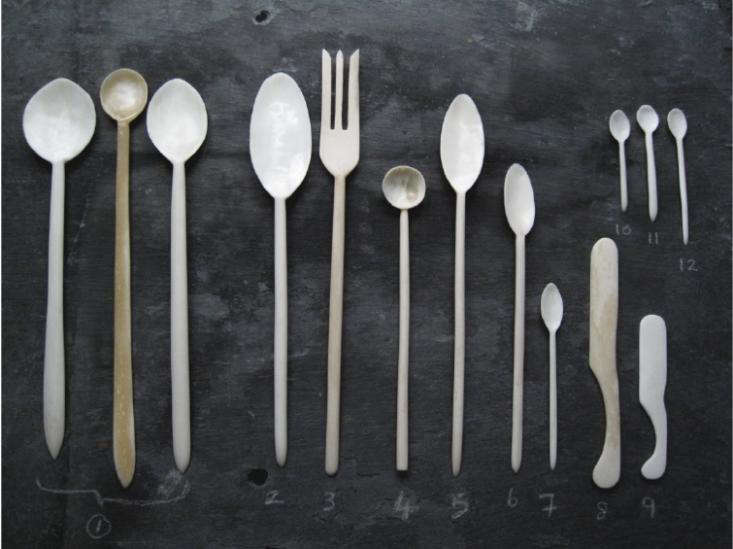 Above: Kirsten's Bone Spoons are made through Marine Projects and Coastal Community Crafts, and a portion of the proceeds goes to support the Local Ocean Trust: Watamu Turtle Watch; they start at £8 ($12.71). The round-bowled design is available through Analogue Life for $12.19.
 Above: The hand-dyed velvet cushions feature hidden zippers and linen backs.
Above: Kirsten's Wooden Spoons, such as these paddles, are carved from locally managed, East African hardwoods; £10 ($15.89). 
Above: Patterns, such as this soft gray stripe, are hand-painted by Kirsten and then digitally transferred. A Marine Grey Linen Stripe Cushion Cover is £58 ($92.15).
Above: Kirsten's Wooden Spoons are also available at Analogue Life in various shapes; $9.59 to $19.16.
Above: A sampling of Kirsten's hand-dyed cotton velvets. Her Fabrics are available starting at £70 ($111.22) per meter and can be dyed to order.
Above: Kirsten's Marine Grey Printed Velvet Cushion is £62 
Kirsten and her designs will be in good company this Saturday: Take a look at the Remodelista London Market announcement to see our roster of vendors. And go to Kirsten Hecktermann to view the full collection.
For more ideas and inspiration, go to:
(Visited 120 times, 1 visits today)