If clothes make the man, do textiles make the manse? Krista Nye Schwartz of the interior design firm and blog Cloth & Kind thinks so. For Krista, every project begins with a favorite pile of fabrics, her family's own Ann Arbor, Michigan, house included. The daughter of a University of Chicago Southeast Asian studies bibliographer, she says that a year spent living in India when she was eight started her on a life path paved in "intense color and texture and pattern."
Her passions translate well on Pinterest where, with her design partner, Tami Ramsay, Krista has developed the Textile & Pattern Resource, an archive of Cloth & Kind–selected fabrics that designers the world over turn to as an ideas database. A believer in spreading the word about "the artisans and the hands that make the cloth," Krista shows us around the Ann Arbor house that she rescued from squirrels and shares her finds.
Photography by Rinne Allen.
Above: The stucco house dates back to 1905 and was "thick with cobwebs, critters, and mold," Krista says. "I was ready to work on a house; I just hadn't expected to fall in love with the haunted house on the block."
Above: "Introducing copper downspouts added so much to the exterior," Krista tells us. For clients, she and Tami have since discovered a way to get the look for less: They paint aluminum downspouts with Sydney Harbour copper paint. For an intriguing downspout alternative, go to Gardenista's 10 Easy Pieces post on Rain Chains.
Above: Krista says, "The house had me as soon as I stepped into the front stairwell and saw the nine-foot ceilings and crown plaster moldings." Though she classifies the project as "a complete gut rehab," she kept the hardwood floors throughout–"refinished with an updated darker stain"–and largely preserved the original floor plan. The foyer walls are covered in Schumacher grasscloth wallpaper hung with a Juju Hat, a Cameroonian feather headdress, from L'Aviva Home. The living room's antique hexagonal table holds a half-dome brass lamp from Three Chairs, one of Krista's favorite Ann Arbor sources.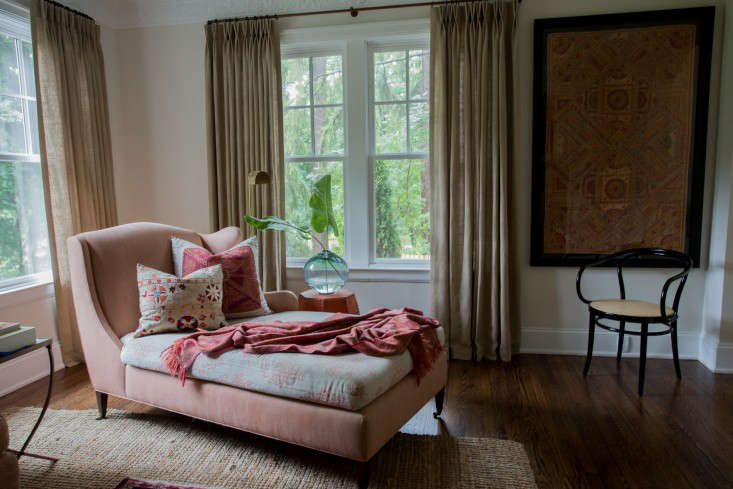 Above: A custom chaise longue in the living room is upholstered in a faded orange linen. The framed textile, an embroidered and mirrored vintage Indian relic, is one of the starting-point pieces that inspired the house's palette of persimmon, pomegranate, and other fiery hues.
." 
Above: Krista describes her approach to design as "textile centric." This chaise cushion with antique Indian embroidery comes from John Robshaw's one-of-a-kind Souk Pillows collection. 
Above: A Thonet Era Armchair from Design Within Reach stands next to a limestone mantle that Krista designed and had fabricated by local stonework company Pascucci Marble & Granite: "The size and scale of it are impressive, yet it's intentionally understated."