Tucked away in tony Knightsbridge, a new shop introduces London to the exotica of the South Pacific.
Native New Zealander Laura Myers spent her childhood summers in Tahiti; her shop, Atea Oceanie, reflects her affinity for the South Pacific islands. Working with artisans from Polynesia, Micronesia, and Melanesia; Myers offers a collection of home goods and clothing that recalls the relaxed lifestyle and island beauty of her childhood memories. For more information, go to Atea Oceanie. (Sadly, Atea Oceanie is now permanently closed.)
Photography by Christine Hanway.
Above: An antique Chinese hall stand is used to display handwoven bags and hats from the Cook Islands out of Rito, baby coconut shoots. The handwoven Pandanus baskets are also from the Cook islands. A collection of carved walking sticks come from New Zealand and the Trobriand Islands while the Maori gourd is from New Zealand. Tucked beneath the hat are canoe paddles from Solomon Island.
Above: Myers has created a relaxed ambience in Atea Oceanie with a bookshelf full of momentoes from her childhood summers in Tahiti.
Above: These handwoven hats are from one of the most remote Cook Islands. There are probably less than 1000 women who will weave this way out of baby coconut shoots.
Above: A collection of artifacts from the islands include basalt pounders from the Cook Islands which would would have been used in the preparation of food and mulberry bark for Tapa cloth. The hand carved Adze is also from the Cook Islands while the ceremonial baton with shell inlay is from the Solomon Islands. Antique decorative boxes from New Zealand feature hand painted scenes and are from the country's early pioneer period.
Above: White Pupu shell necklaces from the Cook Islands. The Atea pearl lariats have been made using pearls from the Cook Islands threaded on Italian suede.
Above: The Atea line includes satchels, which combine handwoven Fijian Pandanus with Italian canvas.
Above: A large Tapa cloth from Samoa has been framed for display. Tapa is a ceremonial cloth made from the bark of the Mulberry tree and decorated with patterns. The handwoven baskets and trays are from the highlands of the Papua New Guinea while linen napkins have embroidered traditional tatoo patterns.
Above: Almost every island in the Pacific has it's own Tapa tradition and each island has its own peculiar language of pattern work. These Tapa cloths are from Fiji, Tonga and Samoa.
Above: The rattan and metal chair was found in a London vintage store.
Above: The handwoven Pandanus fans are from Fiji.
Above: Yellow Pupu shell and red seed necklaces are both traditional forms of decorative material and are from the Cook Islands. The handwoven basket is from Tonga.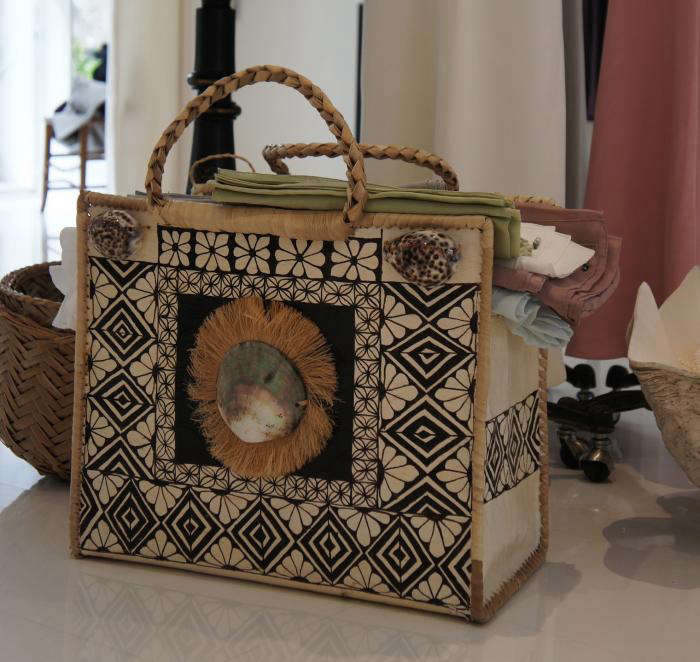 Above: A hand painted market basket from Tonga features a mother of pearl shell.
Above: Myers' photograph collection includes family photographs interspersed with black and white images of South Pacific islanders.
(Visited 358 times, 1 visits today)