Dutch designer Marianne Smink translates the welcome imperfections of hand-stamped and brush-painted designs in her screen-printed tiles.
Born in Utrecht, Smink studied print design at a fashion school in the Netherlands before moving to London for the Applied Imagination masters program at Central Saint Martins and the University of the Arts. That's where Smink refocused her interest to home design. Smink's tile and wallpaper designs, which she sells as Smink Things, all fall under Japanese wabi-sabi principles–with a Dutch edge. Much of her surface treatment is irregular and patterned with incomplete shapes. That's all intentional, and is part of the charm of Smink tiles.
Above: The Quarter Circle tiles feature, in her words, "the simple but sharp outline of a quarter circle, only subtly visible against a loosely painted background. Together the quarters enhance each other and emerge from the square tiles, starting a circular life of their own." Each tile is 10 square centimeters (or about 4 square inches); £7 each.
Above: The tiles are available in two colorways, both shown here: hues of tangerine and a teal that varies from green to blue tints.
Above: The After Lowry tiles are abstractions directly inspired by English painter L.S. Lowry's depictions of northern England's industrial landscapes. Each tile measures 15 square centimeters (or about 6 square inches). Smink also offers the pattern as a wallpaper, the After Lowry Wallpaper; £160 for a 10-meter-long roll (about 33 feet long) that's 52 centimeters wide (about 20 inches).
Above: A detail of Smink's screen-printed tiles in neutral and grayscale colors.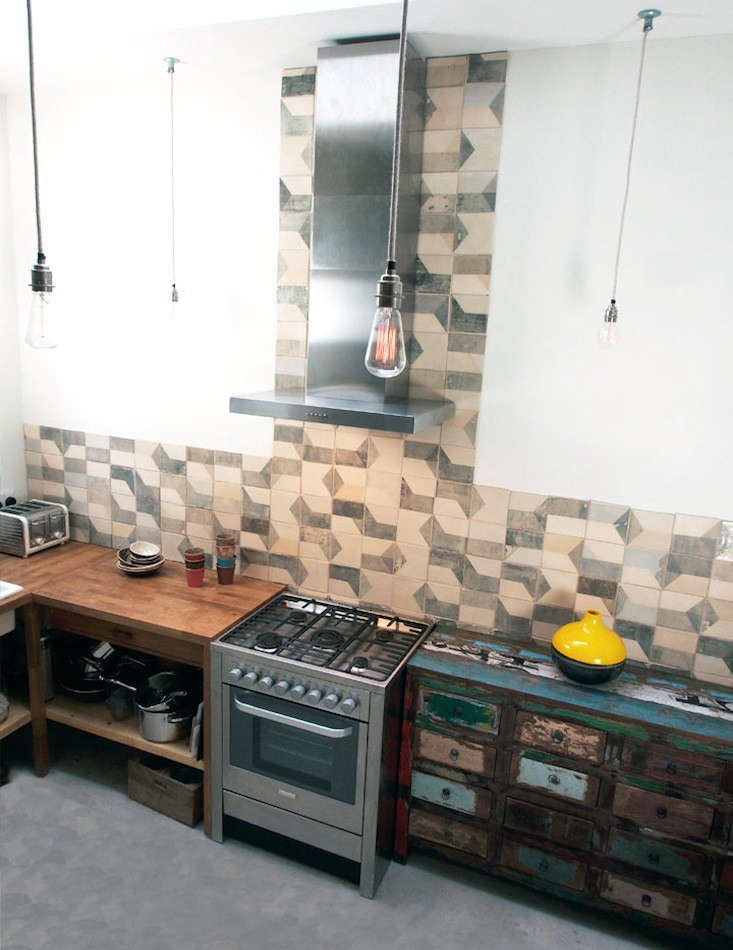 Above: After Lowry tiles, applied to a high kitchen wall.
Above: The subway-style Going Overground tiles were inspired by the London Underground, "the most extensive tiling project ever undertaken in Britain," notes Smink. The tiles are 21 centimeters by 6.5-7 centimeters (or about 8 inches by 2.5-2.8 inches) and are £7 each. 
Above: The Going Overground design applies London's above-ground colors to a tile associated with the underground.
Shopping for the right tile? Browse all the Tiles featured in our Shop section. Then have a look at another favorite UK tile artist, Neisha Crosland, in Artful Tiles from an English Textile Designer.
NOTE: You have only until the end of the day to vote for your favorite finalists in the Considered Design Awards on Remodelista and Gardenista; we're announcing the winners tomorrow, August 9. Click below to let your voice be heard.
You need to login or register to view and manage your bookmarks.