Douglas McMaster, a veteran of forward-thinking international kitchens such as Greenhouse by Joost in Melbourne, Australia, and St. John in London, is on a crusade to create the world's most sustainable restaurant. "I want to completely cut out the middleman and go directly to the suppliers, only buying or producing what is naturally in season," he says in an interview with Vice. "I call it a pre-industrial food system. It's a way of producing, sourcing, and respecting food like we did 100 years ago. The production of waste has been eliminated by simply choosing to trade directly with farmers, using reusable delivery vessels, and choosing local ingredients that themselves generate no waste."
The extreme environmentalism carries over in the interior. McMaster enlisted local firm Baines & Fricker, a husband/wife team, to design the restaurant's dining room. 
Above: The restaurant's exterior has a giant sliding barn door. "Their waste-avoiding initiatives are exhaustive and startling," says The Guardian. "They cultivate their own mushrooms in discarded coffee grounds. If you want a receipt, it's emailed."
Above: A view of the dining area.
Above: The cafe's composting machine, which is front and center in the dining room, turns 60 kilos of organic waste into compost in 24 hours, eliminating the need for bins. Local businesses are encouraged to bring in their waste to be composted and extra compost is available free to members of the community.
Above: The tabletops are made out of reclaimed industrial floor tiles.
Above L: A magnetic utility wall serves as a pot rack. Above R: Plates are made from recycled plastic bags.
Above: An array of baked goods on offer.
Above: Repurposed drain pipes (planted with wheatgrass) are mounted haphazardly on the white painted brick walls. 
Above: Laser-cut coasters by Jim Wilson of Brighton Arts College are made from building material offcuts. Photo via Ceri Jones.
Above: Designers Baines & Fricker used legs from unwanted school tables for the dining tables. The seating is made from pulped wood waste. Photograph by David Charbit.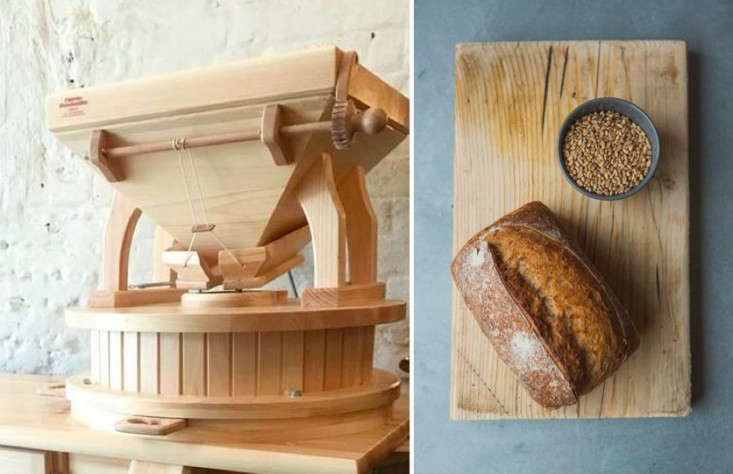 Above L: McMaster has named his wooden flour mill from Austria "Gertrude." Above R: A freshly baked loaf.
Above: The mission statement.
For more information, go to Silo Cafe. 
Check out another European cafe with a noble mission: Restaurant as Social Experiment: 28 Posti in Milan.
(Visited 153 times, 1 visits today)