A huge thank you to all our Bay Area friends who stopped by the Remodelista Holiday Market last Sunday at the SummerHouse warehouse. Despite a persistent drizzle (and the occasional full-on deluge), the space was abuzz with shoppers, vendors, passersby, blog readers, babies, hipsters, and neighborhood stalwarts the moment the doors opened. Thanks to all who participated and to those who came, shopped, imbibed, and shopped a bit more. Market photos by Janet Hall.
N.B. There's still time to shop the Remodelista Holiday Market online; see the full list of our vendors below.
Watch the Remodelista Holiday Market video by Stefan Sargent.
Above: We created the stenciled Remodelista logo with Orchard Green paint from Philip's Perfect Colors line, Philip Reno's custom-mixed palette, available through G & R Paints in San Francisco.
Above: Holiday gift tags by Napa graphic artist and designer Wendy Furman (a few are still available; email Wendy for info).
Above: Bay Area designer Erica Tanov (in plaid red cape) showcases her wares.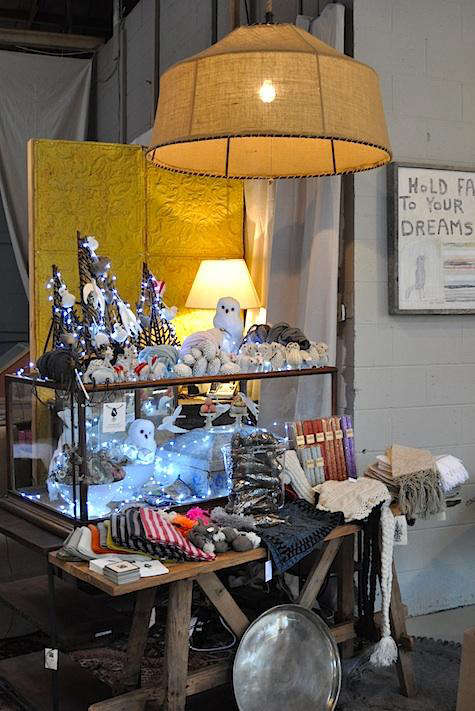 Above: SummerHouse in Mill Valley is one of the best sources in the Bay Area for all things home.
Above: Christina Weber of Studiopatro, with Connie Chow, surrounded by her block-printed wares.
Above: Napa designer Wendy Furman Design festive holiday cards.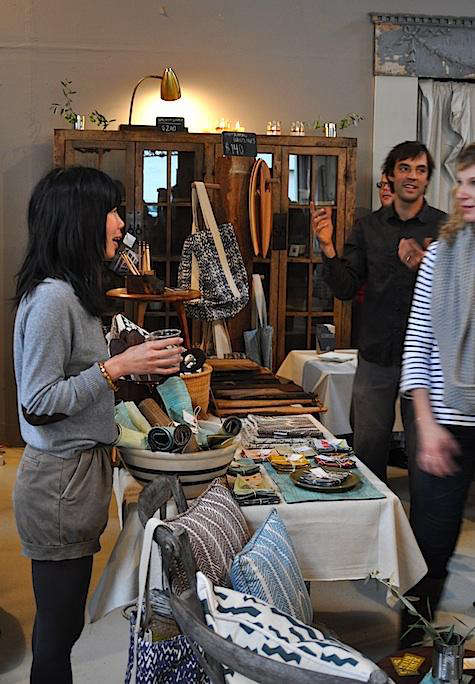 Above: A group from the Woodshop, an artisan collective in SF's Outer Sunset neighborhood, offered branch antlers, wood cutting boards and spoons, prints, and screen-printed fabrics.
Above: Handprinted cotton pillows from Jenny Pennywood and placemats and napkins by Jo Bartels.
Above L: Molly de Vries offers aprons made from reclaimed Levi Strauss denim; visit her Etsy shop, Ambitalia. Above R: San Francisco children's clothing designer Dagmar Daley.
Above: Crunchy, textural linens from Tricia Rose of Rough Linen.
Above: Modern House Wines from Swanson Vineyards with witty labels (thanks to Alexis Swanson and Andy Spade); perfect as a dinner party offering. Go to Swanson Vineyards to order.
REMODELISTA HOLIDAY MARKET VENDORS
Clothing and accessories from Dagmar Daley, Erica Tanov, and Mato Creative. Food and drink from Breakaway Matcha, Fearless Chocolate, La Saison Specialty Foods, and Swanson Vineyards. Letterpress notecards from Wendy Furman Design and Fineline Letterpress. Organic skincare from Marie Veronique. Table accessories from Heritage Culinary Artifacts. Table linens, bedding, and tea towels from Ambatalia Textiles, Rough Linen, Sefte, and Studiopatro. Wooden antlers, spoons, and stools from Woodshop and handprinted textiles from Jo Bartels and Jenny Pennywood.
You need to login or register to view and manage your bookmarks.