In 2009, Kristin Dickson-Okuda opened a tiny shop on Sunset Boulevard in Echo Park, with the mysterious name Iko Iko (it means "let's go" in Japanese). Since then, Kristin and her partner Shin Okuda have moved twice; first to a space on Fairfax and most recently to a 5,000-square-foot loft in what they're calling Lower Chinatown.
"The nomadic experience of Iko Iko has let us redefine ourselves with each iteration," says Kristin. From the get-go, the shop has served as a platform for Kristin's clothing line, Rowena Sartin, and Shin's furniture line, Waka Waka. When they moved to their new space, with all its square footage, Kristin and Sin invited sisters Kimberly and Nancy Wu of Building Block, an of-the-moment leather bag company, to join them in creating a collaborative studio and shop.
The foursome designed the third-floor loft together, a process Kristin says was natural. "We all had an understanding that it needed to be clean, interactive, and reflective. We wanted it to be modular–something that could be moved around every month–with studio space and room for events." The result is a gallery-like space that feels as personal as it does experimental.
Photography by Michael A. Muller for Remodelista.
Above: The building is more 100 years old and was once the warehouse for the Standard Oil Company before it became the Women's Building in the 1970s. Kristin notes that she found a 1979 inauguration placard inside of the building's safe.
Above: Kristin, Shin, Kimberly, and Nancy painted the floors and walls in bright white to highlight the architectural features of the building itself: industrial windows, a central skylight, and classic pillars. Rowena Sartin Flat Shape Bags in black leather, made by Kristin, stand in a row along the wall. The wooden desk and stool are made by Shin.
Above: The Building Block logo and business card were designed by Zack Seuberling along with Building Block's Nancy Wu, who is also a graphic designer. The Iko Iko logo is by One & Done Studio.
Above: The Italian leather Big Business Bag ($715) from Building Block and a found green glass platform for displaying jewelry.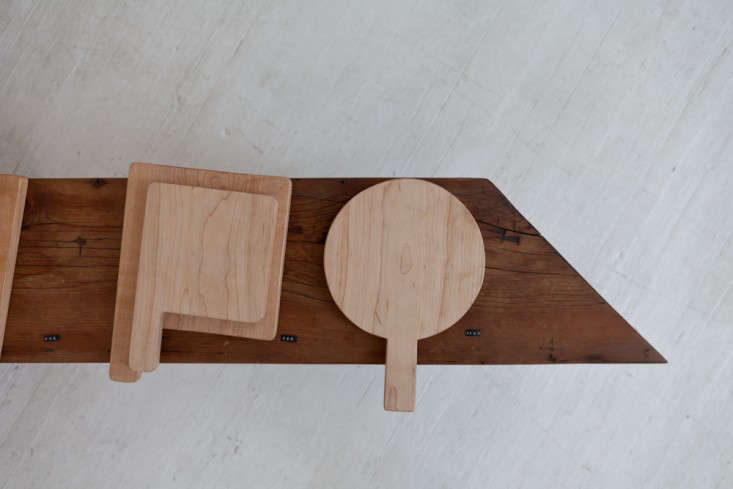 Above: Shin's Waka Waka Cutting Boards are designed to reflect "a conversation of shapes and handle solutions"; $65 each.
Above: "Originally, the building had an atrium that was open to the ground floor," says Kristin of the ornamental ceiling addition. "I think they might have added this lattice piece back in the 1980s."
Above: Shin designed a set of stools of varying heights, all covered in square ceramic tiles.
Above: A series of houseplants left in their original plastic containers. "I like them in a really generic kind of presentation," says Kristin of the plastic. The plastic drop cloth curtains were meant to be temporary, until Kristin realized how effectively they diffuse the natural light across the space and decided to keep them.
Above: The Waka Waka table and chair series is in the center of the loft.
Above: A canary melon and citrus casually displayed on a table.
 Above: An installation of Kishu Binchotan Charcoal purifying water in a carafe.
Above: Along the wall is a group of necklaces by Hanna Keefe that have followed Kristin since the beginning; Iko Iko stocks one-off pieces and represents the artist for wholesale as well. The necklaces range from $220 to $485.
Above: White pillars came shrink-wrapped and Shin was adamant about keeping them that way. "The green shrink wrap has the coolness of glass; it has a reflective quality that we liked," says Kristin.
 Above: The wall-mounted sculptures were made by Kristin from reshaped, painted roofing components.
Above: Kristin found the iron table base in a parking lot and Shin sanded it down to use as a display table.
Above: The Waka Waka Switch Back Stool (left) and two Disc Stools (center and right) are $375 each.
Above: Shin designed a floating Baltic birch plywood step shelf for displaying Kimberly and Nancy's bags. From top: the Disc in Pebbled Black Bag ($325), the Book Clutch ($385), the Cylinder Duffle ($795), and the Fold Messenger Bag ($370).
Above: Another display by Shin incorporates dowel rods for displaying bags and other items.
Iko Iko is located at 1727 N. Spring Street in Los Angeles and is open Wednesday through Sunday. For those planning a visit, Kristin recommends calling ahead (the shop phone number is 323-719-1079). "The doorbell is broken, so you really have to work for it."
For more from Kristin and Shin, see our post Shopper's Diary: Iko Iko in Los Angeles about their former shop and Tiny Alters: Furniture Inspired by Japanese Temples. Replicate Kristin's plant life with a download on the best Houseplants over on Gardenista.
You need to login or register to view and manage your bookmarks.