Hunting and Collecting in Brussels is the work of former fashion editor Aude Gribomont and event producer Niels Radkte, who have pooled their creative talents and love of fashion, art, and design in the creation of this concept store. Blurring the line between art gallery and store, Gribomont and Radkte feature a heady mix of rotating artists in a nod to our global, nomadic culture. Their Online Store is equally innovative.
Above: Window display by Korean artist Kwangho Lee.
Above: A picnic table with sheepskin-draped benches.
Above: A fur-draped indoor swing.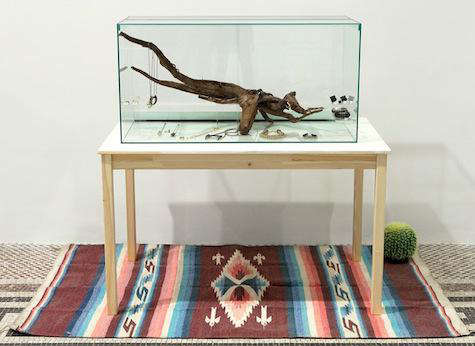 Above: A gnarled piece of wood serves as a jewelry display stand.
Above: Clothes hang from a wood-beaded line.
Above: A display by New York's Confetti System.
Above: Handmade, one-of-kind arrows from Brooklyn-based Fredericks & Mae.
(Visited 12 times, 1 visits today)