We're always glad to have a new source for handmade tile, and we credit our friends Ben and Kate Towill of Charleston, South Carolina, design firm Basic Projects for cluing us in to Tabarka Studio. (The Towills used Tabarka tile in recent Restaurant, Inn, and House projects, all featured on Remodelista.) Founded in 2000 in Scottsdale, Arizona, Tabarka makes terracotta tile by hand in 36 Mediterranean-inspired colors (plus three metallics). We're particularly fond of the Nord, Paris Metro, and Rue des Rosiers collections featured here, which are inspired by both contemporary and folk art motifs of France.
Photography courtesy of Tabarka Studio.
The Rue des Rosiers is a street in the Jewish quarter of the fashionable Marais district of Paris. The Tabarka collection for which it's named takes inspiration from the street's "mix of tradition and trendsetting," as expressed in a palette of neutral tiles with colorful motifs hand-painted on top.
Tabarka tiles are formed, painted, and glazed by hand, so some variation in color and shape is to be expected, as are small cracks and chips "that add character to the rustic nature of the tile."
Tabarka terracotta tiles are ideal for indoor flooring that will be subjected to regular household use.
Though water-resistant and suitable for shower walls (but not shower floors), Tabarka's terracotta tiles are intended for use indoors only.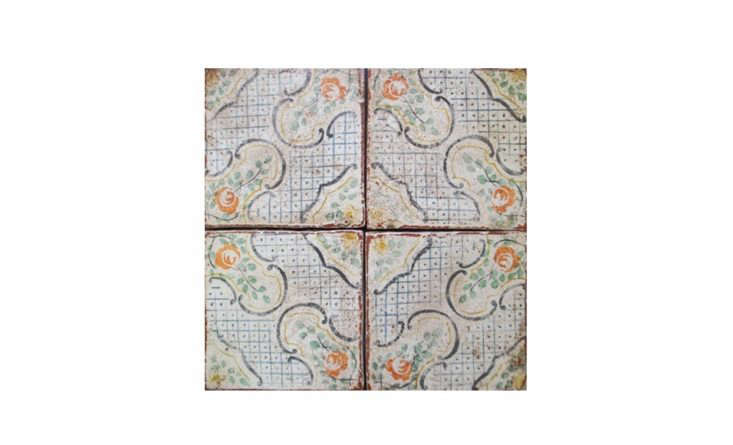 The Nord collection reinterprets the "delicate and often whimsical patterns of ancestry and heritage" through a contemporary lens.
In addition to the terracotta tile shown here, Tabarka also makes stone, wood, and parquet surfaces.
Tabarka's Paris Metro line takes its influence from artwork found in the city's underground train stations designed in the 1930s, "patterns richly rooted in classic design."
Tile from these three collections is available in a range of sizes, from just over four inches square to almost 10-inch squares.
Planning to use tile in the kitchen or bath? Start with our Remodeling 101: Bath and Remodeling 101: Kitchen guides, each full of expertise on choosing surfaces. For more tile we like, try:
You need to login or register to view and manage your bookmarks.