Despite the masculine-sounding name, Richard Watson is the design studio of two women, Brooke Richard and Laura Watson, who describe their work as furniture through "the filter of a feminine mind." A number of years after meeting in graduate school at the New England School of Art and Design, the two founded an interior design firm, Orange Street Design, and it was out of this that Richard Watson was born. "One of our earlier projects called for custom furniture, which is something we'd always dreamed of doing," says Laura. After creating a few pieces for their client, they were hooked.
I recently met up with Brooke and Laura at their Brookline, MA, studio, where Brooke explained: "There are not a lot of women working in furniture, especially hardwoods; finding a balance between the masculine and feminine is definitely something we bring to our collection." Another hallmark of Richard Watson is craftsmanship. Heirlooms for the modern era, each piece is painstakingly made by hand by a master woodworker in Pawtucket, Rhode Island. Finally, the two noted, there is always a sense of story to their furniture, "a bit of fable and also something unexpected, a surprise."
Above: He becomes a She: Richard Watson's six-foot-tall version of the classic highboy has long tapered legs and a chamfered frame that lend a sense of grace and cast a little shadow that draws you to the piece. Inspired by the detailing on vintage apothecary cabinets, the drawers, too, are intimate in scale and adorned with delicate custom pulls. As an unexpected twist, the top three drawers come out and can also be used as keepsake boxes.
The highboy is also available in oak, ash, and pickled ash, each hand finished with natural oils and waxes. Contact Richard Watson for pricing.
Above: No detail is too small. After noticing a dearth of handmade hardware made of finer metals, such as bronze and brushed brass, Laura and Brooke started fabricating their own pulls and handles with the help of a jewelry designer from New York. "She makes a wax model from our sketches and sends it to us. We then manipulate the model ourselves, and the three of us go back and forth in the exciting collaborative process, until we get the look and feel of the piece we want." Shown here, large and small pin-like pulls and handles in brushed brass, red bronze, and white bronze. Richard Watson's hardware is also sold separately from the furniture; contact Richard Watson for pricing.
Above: In our conversation about their stools, they explained that the legs were inspired by bones. I observed that the curve of the legs and chamfering at the base of the seat create a sense of light and air around these pieces. "Truly," added Laura, "there is not a connection or corner or angle of these pieces that we have not considered."
"Like a sculpture," I commented.
"Yes, but the difference between our furniture and fine art is that our pieces are designed to be used and touched."
Above: The Hunt Table has many of Richard Watson's signature details, including a lithe silhouette and a surprise: in this case it's a custom-made box placed inside that can be used to store silverware or linens.
Above: Richard Watson's long hardware pulls, handmade of bronze or brushed brass, are available in small or large and can also be used as wall hooks. Contact Richard Watson for pricing.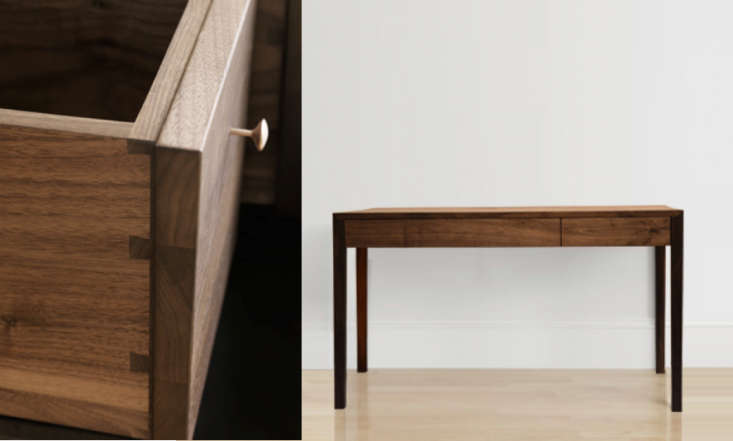 Above: When they started making furniture, Laura and Brooke learned all they could about different woods and the woodworking process from a master craftsman who took them under his wing. The two are involved in every aspect of their pieces from concept to completion, making countless visit to their manufacturer to discuss the execution of their designs. The handmade details, such as dovetail joints (Above R) and invisible seems in the desk (Above L) are what elevate Richard Watson furniture to heirloom quality. 
N.B. Another furniture favorite that Brooke and Laura and I share, the historically-inspired designs of Sawkille Co. of Rhinebeck, NY. See Sawkille's latest designs at Color-Stained Furniture, the Next Big Thing?
You need to login or register to view and manage your bookmarks.