Tucked away on a quiet street around the corner from Remodelista's London office in Fitzrovia is a tiny restaurant with a giant soul. Sarah and I stumbled upon Honey & Co. two summers ago when the Middle Eastern cafe had just opened. We were immediately transfixed by its mix of heady food smells, charming decor, and the warmth and passion of Itamar Srulovich and Sarit Packer, the husband and wife owner/proprietors. The two also happen to have first-rate culinary pedigrees: He served as the head chef at Ottolenghi; she was the head of pastry at Ottolenghi and executive chef at Nopi.
Thrilled that we'd found our "local," we watched the rest of the neighborhood discover the restaurant, which seats 20 and is now always fully booked for its two lunch and dinner sittings. During all this, Srulovich and Packer somehow also managed to find time to write their recently launched cookbook, Honey & Co: Food from the Middle East. Grab a table if you can.
Photography by Patricia Niven, unless otherwise noted.
Above: The tiny cafe has a one-room dining area (the kitchen is out of sight downstairs). A small area at the back of the room (pictured) is designated for coffee and tea prep. Open shelves float across the window to maximize much-needed storage. (To see a kitchen that makes clever use of across-the-window shelving, go to last year's winner of the Remodelista Considered Design Awards: Best Design: Professional Kitchen Space.)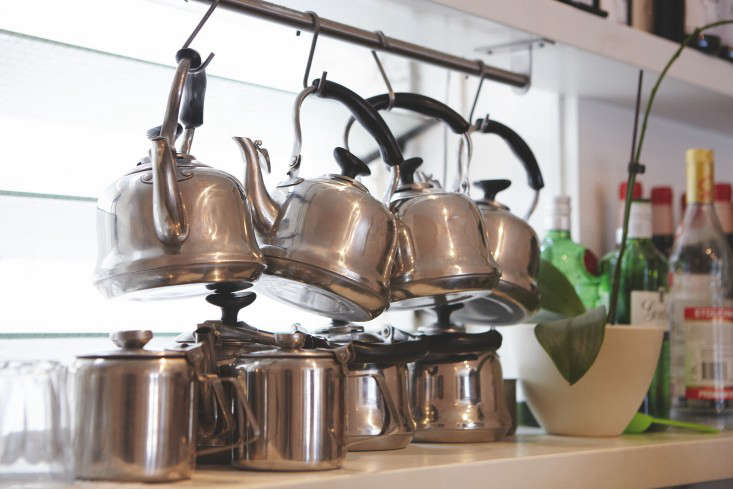 Above: An under-mounted rail provides accessible storage for teapots.
Above: The decor of the 20-seat dining room is pleasingly simple: a blue and white tiled floor, Thonet chairs in natural wood and painted black finishes, and paper covered tables. The kitchen is downstairs.
Above: Yellow bench cushions complement the blue in the Encaustic Moroccan Floor Tiles from Dar Interiors.
Above: To be tried at home: a wooden clothespin provides an easy finishing detail for a napkin and set of cutlery.
Above: Menus are printed on kraft paper. Photograph by Heloise Faure. 
Above: Homemade granola and seasonal jams are always on offer. 
Above: Honey & Co. is always full and buzzing.
Above L: The bathroom's washbasin was built into an existing brick niche that was painted white. Photograph by Heloise Faure. Above R: Red accents decorate a group of outside tables.
Above: In good weather, classic Bistro Tables and Chairs from Fermob provide an instant sidewalk cafe by day, and are easily stowed away at night. Photograph by Heloise Faure. 
Above: Honey & Co.'s lamb shawarma, another of the cafe's signatures to be tried at home–the recipe is included in the book.
Above: Honey & Co., Food from the Middle East is published by Saltyard Books; £25. The book isn't officially out in the US until spring 2015, but it's available on Amazon and via Kindle.
For more tiny London restaurants with soul, see Kitchen Confidential: PipsDish in Covent Garden and Leila's Shop: The Ultimate Greengrocer. And how about a Greenhouse as Restaurant on the outskirts of Amsterdam?
Below: Honey & Co. is near Fitzroy Square, in London.
(Visited 335 times, 1 visits today)
Frequently asked questions
What is Honey & Co.?
Honey & Co is a Middle Eastern inspired restaurant located in London. They focus on fresh and seasonal ingredients and use traditional cooking methods to create delicious dishes.
What type of food do they serve at Honey & Co.?
Honey & Co. specializes in Middle Eastern cuisine. Some of their popular dishes include shakshuka, falafel, and lamb kofta. They also have a variety of vegetarian and vegan options available.
Do they have a cookbook?
Yes, Honey & Co. has released a cookbook called 'Honey & Co: The Cookbook'. It contains recipes for many of their popular dishes and provides insight into their cooking techniques and ingredients.
Is the restaurant open for lunch and dinner?
Yes, Honey & Co. is open for both lunch and dinner. However, it is recommended to make a reservation in advance as they do get quite busy.
What is the price range of the dishes at Honey & Co.?
The prices at Honey & Co. vary depending on the dish, but generally, they are moderately priced. Expect to pay around £10-15 for a main course.
Do they have a takeaway option?
Yes, Honey & Co. offers a takeaway option for their food. You can order online from their website or by phone and pick up your order at the restaurant.