Rizzoli's newly released The Inspired Home: Nests of Creatives by Kim Ficaro and Todd Nickey is one of our favorite interiors books of late (the Remodelista book notwithstanding). It's a refreshing look at a variety of approaches to living, rather than the depiction of a particular style. The book presents 17 houses belonging to creative people whose quarters telegraph personal and inspired approaches to living. 
Ficaro, a prop and interiors stylist, and Nickey, an interior designer and co-owner of Nickey Kehoe, one of our favorite design shops in LA, are in the business of helping create spaces for others. For this book, however, they stepped back and used their curatorial vision to document the work of others. They discovered an array of creative types, from designers and tastemakers to writers and musicians, whose passions and sensibilities are reflected in their surroundings. And since the book is devoted to presenting nests, the duo use avian references to categorize their subjects: fashion designer Rogan Gregory, for instance, is a Sandpiper, while architect Vincent Van Duysen is the book's Mourning Dove.
Ficaro and Nickey note that while their daily work is about lending their taste and style to projects,  The Inspired Home gave them "the opportunity to look through a different lens: it let us appreciate the beauty and composition of what's in front of us without our input." Mission well accomplished.
Photography by Ditte Isager.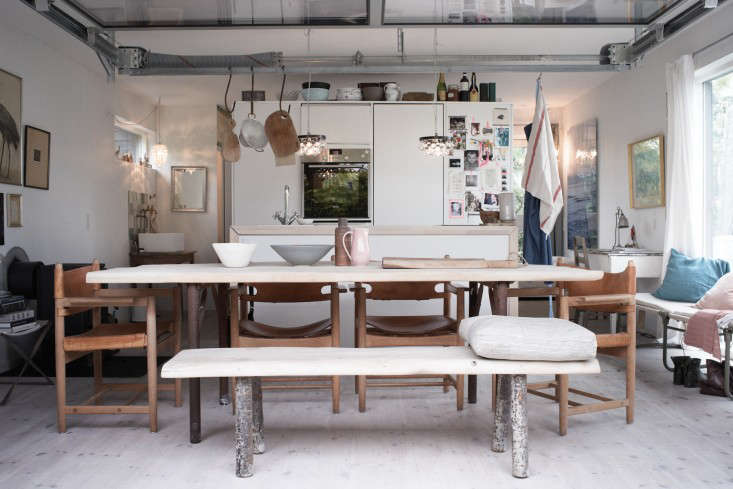 Above: Interiors and lifestyle photographer Ditte Isager shot all 17 of the houses featured in the book, including her and her partner Christian Vang's own country house on the outskirts of Copenhagen. It's one of our favorites in the book; here's a preview, starting with the open living and kitchen space.
Above: A view of the garden from a cot used as a bench.
Above: Tiles in shades of gray form a patchwork backsplash for the bathroom sink with brass taps. 
Above: A wall of the living space is devoted to art and records. The rustic table and bench are made by the couple's friend Andrea Brugi.
Above: A serene, large-format photograph by Isager and a chandelier hang above the bed. 
Above: A claw-foot bathtub sits at the end of the bed. Next to is the loo, the only room with a door in the open living space.
Above: The Inspired Home: Nests of Creatives by Kim Ficaro and Todd Nickey, with texts by Mayer Rus and Sarah Sophie Flicker, is available from Amazon for $38.41. 
To see our posts on other worthy design books, go to Required Reading. And if you don't yet have a copy of Remodelista: A Manual for the Considered Home, buy it here. Getting ready to return to the garden? Have a look at Gardenista's Favorite Titles and don't miss Michelle's Domestic Dispatch: My Worst Design Decision Ever (hint: it involves getting rid of books).

You need to login or register to view and manage your bookmarks.