Remodelista contributing editor Justine Hand became an instant fan of Mister Finch when she discovered his work on Etsy a while back. The two struck up a mutual admiration, and when Finch embarked on his first book project, Mister Finch: Living in a Fairytale World (just published by Glitterati), he asked her to contribute the preface. "Sometimes stained, at others bejeweled, Finch's creations constantly walk the knife's edge between extremes: life and death, melancholy and mirth, the beautiful and the bizarre," she writes. "Never falling to one side, they hold us in a place that is precarious but tantalizing."
And who is Mister Finch? A British textile artist who stitches stuffed animals, insects, and flowers from leftover scraps, the mysterious Mister Finch works out of a studio in Yorkshire, England, that's "full of books, glass jars, and naughty cats. I've called my business Mister Finch so it's clear from the start that I'm a man and one that sews." Finch taps into the fantasy of fairytales and folklore, and, on first viewing, his one-of-a-kind creatures seem a tad sinister, but move in closer and you'll find beautifully hand-sewn details that are poetic and achingly beautiful.
Here's a look at some highlights from the book.
Above: An owl made from recycled materials. Mister Finch favors timeworn fabrics "not only as an ethical statement," he says, "but because I believe they add more authenticity and charm. Velvet curtains from an old hotel, a threadbare wedding dress, and a vintage apron become birds and beasts looking for new owners and adventures to have."
Above: Finch's addition of clothing adds a human element to his creatures: "I like to imagine them coming alive at night. Getting dressed or helping an elderly shoemaker or the tired housewife."
Above: Butterflies and moths are a longstanding Mister Finch obsession.
Above: Three mice in ruffles.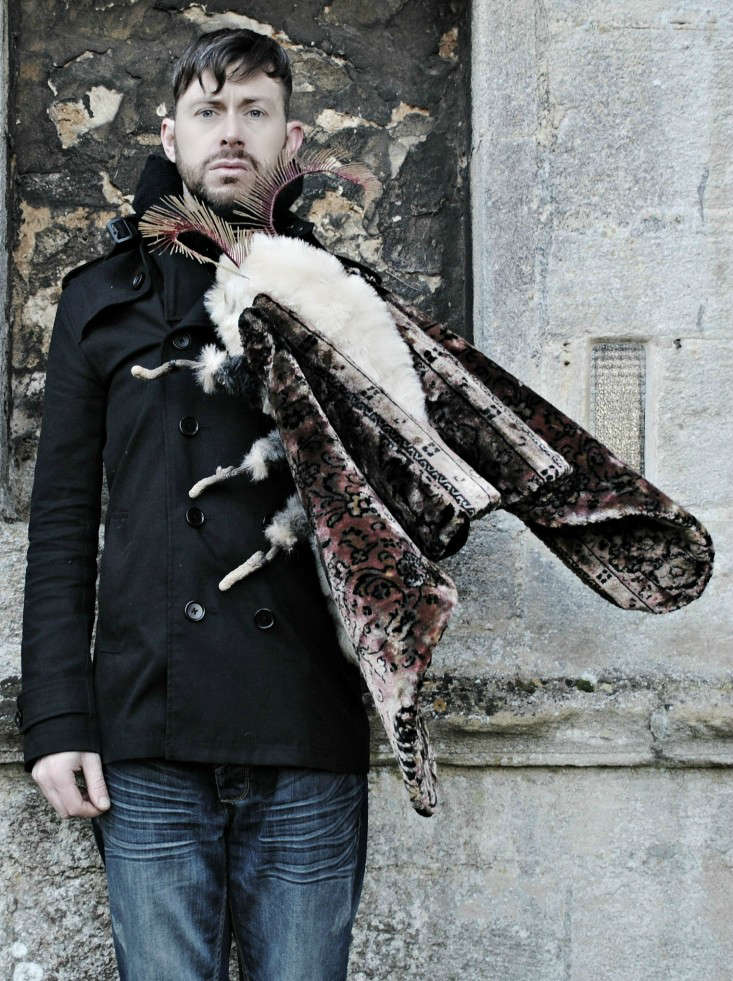 Above: Mister Finch wearing one of his own creations attached to his coat.
Above: Mister Finch: Living in a Fairytale World is available worldwide from Amazon; $45. To see more of his work, go to Mister Finch.
See Mister Finch's leather creations in our post An Edgy Textile Artist. And for another textile artist we admire, meet Jess Brown, Accidental Doll Maker.
More books? Go to Required Reading for our latest recommendations, and have a look at Gardenista's selections, too. 
You need to login or register to view and manage your bookmarks.