Your average household dishwasher sees a lot of use. But when it gets near the end of its life cycle, you might notice that it's leaking, not draining properly, or not doing its one job: delivering clean dishes. Time to go shopping!
In this miniseries we're answering common questions about replacing your appliances. (See our post on replacing your refrigerator here.) To get the right answers, we consulted with Andrea Zaff of Boston-based Zaff Architecture, who specializes in helping her clients source appliances.
Here are seven questions to ask when swapping out your tired dishwasher for a new one.
Are all dishwashers the same size?
Most dishwashers are one of three basic types: standard, compact, or custom. Depending on the manufacturer, the standard and compact models can vary slightly in width, depth, or height, which could make a difference during installation.
Standard
Standard size is generally listed as 24 inches wide, 24 inches deep, and 35 inches high, with leveling feet that let you adjust the height to fit neatly under the counter. But the dishwasher itself may measure 23 5/8 by 23 5/8 by 34 inches—some wiggle room is required to get the unit into place and hook it up.
Compact
Compact or space-saving dishwashers are 24 inches deep by 35 inches high, but typically only about 18 (or 17 5/8) inches wide.
Custom
Custom (also called oversize) models are wider or taller than the standard dishwasher. There aren't many on the market, however, due to poor performance. "If you really need capacity, it's better to install two 24-inch units," Andrea Zaff says. "This has been a life saver for some of my clients who have busy lives."
Other Options
Portable stand-alone dishwashers are also available, and can be a solution in a kitchen where the sink isn't close to where you'd want to install a dishwasher. And there are also dishwasher drawers (see Remodeling 101: The Ins and Outs of Dishwasher Drawers), which allow you to wash small loads economically.
How do I know if my new dishwasher will fit in the existing space?
If you're replacing one standard-size unit with another, chances are good that the new one will slide right in. However, Andrea warns, "In an older home you might find that once the old dishwasher is removed, the distance between floor and counter isn't quite what you'd expected. If your flooring was laid down over older flooring, for example, it might not extend under the dishwasher and cabinets. And if the finished floor is higher than where the dishwasher sits, it may be hard to get the old dishwasher out."
If there's any doubt, Andrea recommends you take precise measurements of your existing space, then check the specifications or consult with a salesperson regarding the model you're interested in. You may have to remove the old dishwasher to get the dimensions of the rough opening.
I'm upgrading to a fancy new dishwasher. Will I need to upgrade the wiring and/or the plumbing?
A dishwasher requires electricity, a hot-water pipe, and a drain. If you're installing your new unit in the same location, the electrical and plumbing hookups will already be in place, so it's likely that no changes will be needed. But Andrea notes: "Since 2014, the National Electric Code has required a dishwasher to have a dedicated circuit (one not shared with other appliances), with a GFCI-protective device installed on the circuit breaker panel for extra protection. It must also have a shut-off valve within four feet of the appliance." The electrician installing the new unit will be able to confirm all of that.
Depending on the local plumbing code, you may need to install an air gap in the countertop to make sure that water can't siphon from the sink (if the sink were full) into the dishwasher and then all over the floor.
If your sink lacks an available hole for installing an air gap, your plumber can usually drill one. Another way to provide a hole is to replace the standard sink faucet with a post-type faucet, which doesn't have the rectangular mounting plate at its base. Without the mounting plate, two holes will be exposed at the rim of the sink. One of these can be used for an air gap; the other for a soap dispenser or hand-sprayer.
How can I make space to upgrade from a compact dishwasher to a standard-size one?
It can be done, though it generally means losing kitchen storage. "Each case is different, but you'll probably have to remove existing cabinetry for your new dishwasher," says Andrea. "Then you'll need to add either a filler panel, open shelving, or a slender cabinet—perhaps a pullout cabinet for baking trays."
Can I switch from a standard-size dishwasher to dishwasher drawers?
Most double dishwasher drawers have the same dimensions as a standard dishwasher, so there won't be any problem fitting them in the existing opening. Note that when open, the drawers occupy a bit less space than a traditional pull-down door—which is helpful in a kitchen where space is at a premium.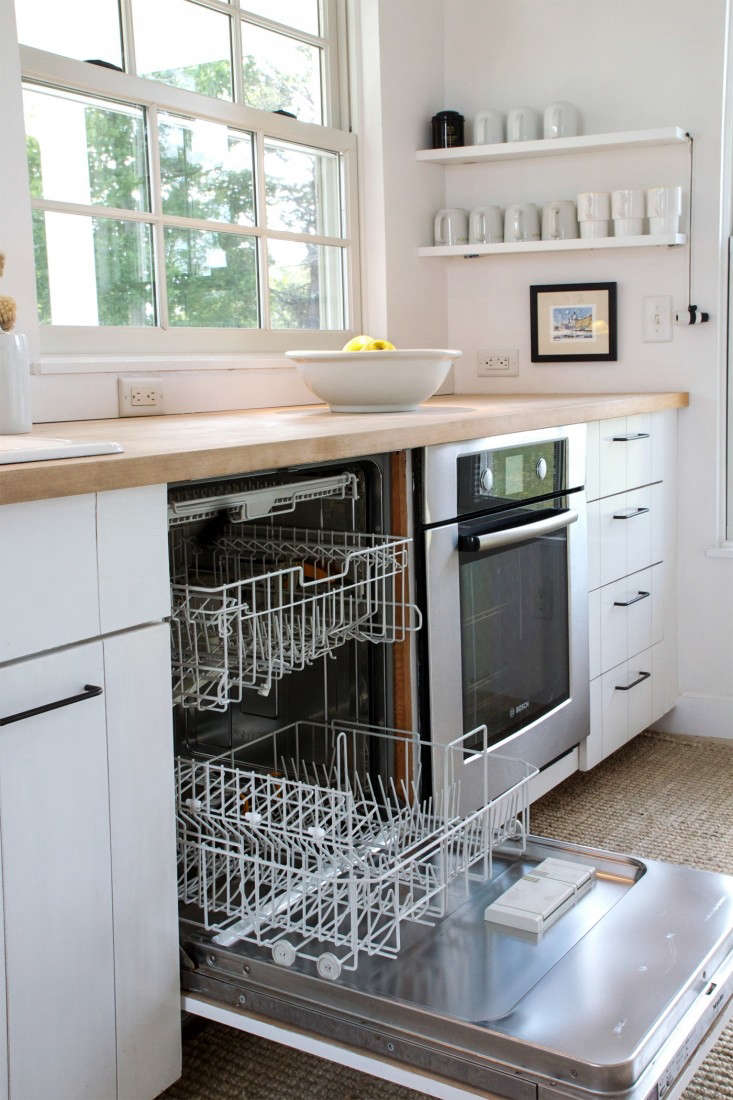 How can I save energy—and money—with my new dishwasher?
"You'll find the Energy Star rating—as well as the estimated energy use and cost per year—on the yellow tag displayed on the front of the machine," says Andrea. According to the EPA's Energy Star program, "Dishwasher technology has improved dramatically over the last decade… . Standard-size dishwashers that have earned the Energy Star are on average 12 percent more energy efficient and 30 percent more water efficient than standard models." That helps the environment and also saves consumers money. Bonus: The new dishwashers are both quieter and more efficient.
What do I do with my old dishwasher?
The retailer who sold you the new unit will probably remove it when they make delivery. But if you're not sure where the old unit will go after that, you might want to take disposal into your own hands. The Energy Star program offers advice on recycling old appliances.
If your old dishwasher still works, you might sell it on Craigslist or eBay. Or you could donate it to a recycling center (some offer cash for old appliances) or a nonprofit such as Eco Building Bargains, Goodwill, or Habitat for Humanity, where goods are recycled and resold rather than dumped in a landfill. (The donation may give you a tax write-off in the next fiscal year.)
For more on sourcing a new dishwasher, see 10 Easy Pieces: Front-Loading Dishwashers. And stay tuned for more posts in this miniseries: Next we'll cover What to Know When Replacing Your Washer/Dryer and What to Know When Replacing Your Range.
More dishwasher essentials:
Finally, get more ideas on how to evaluate and choose a kitchen dishwasher in our Remodeling 101 Guide: Kitchen Dishwashers.
You need to login or register to view and manage your bookmarks.