"There are few places in the world where one could wash ashore, be embraced by the creative free spirit, and be happy to call it home: far-flung seaside enclaves like Capri, Goa, and Rhodes. In America there is only one such place: Provincetown." So wrote Philip Cozzi, who, along with his wife, Kristin Hein, of Hein+Cozzi, sought to capture this seaside spirit in their latest project: a four-season rental overlooking Provincetown Harbor.
Photography by Justine Hand f0r Remodelista.
Working in conjunction with building architect Ryan Campbell, Kristin and Philip were charged with converting a historic captains' home into a flexible rental* and guest house with a two-story, two-bedroom apartment facing the ocean and an intimate studio on the bottom floor, street-side. (*Rental information available soon.)
Their first order of business was to capitalize on the stunning view afforded by the home's extraordinary location: perched over the high-tide line, overlooking Cape Cod Bay. The team constructed overhanging decks on both bayside levels, each flanked with floor-to-ceiling windows and doors that open fully to let the outdoors in. "We treated the residence as if it were anchored out of port, with doors flung wide open to the sea," they say.
Throughout the interiors of the old captains' home, Philip and Kristin applied their signature historic/modern touch: preserving original details and using traditional seaside materials and motifs in contemporary ways. "We preserved the original beams and posts, encasing and highlighting them within shiplap, all with a balance of modern environs and a hint of barefoot Bohemia. The home invites renters to get lost in the water view and languish on cabana-striped banquettes," they say. (See their own Provincetown home, Old Homestead, in Provincetown Eclectic: A Design Duo Channels P-town's Storied Past.)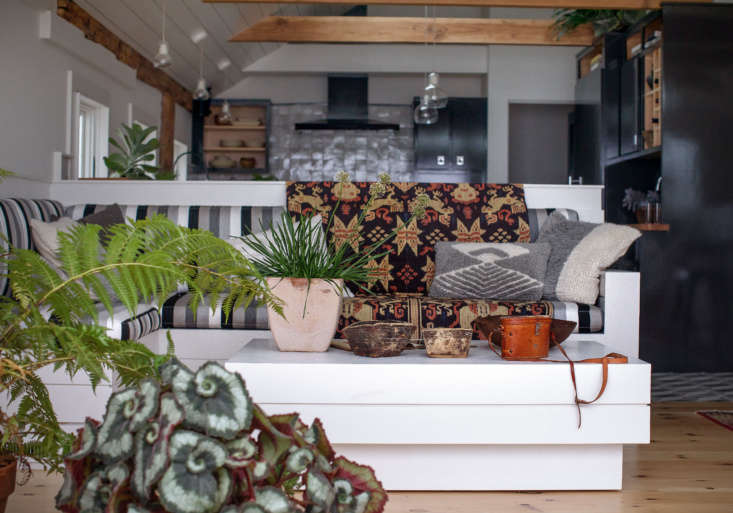 For Philip, who grew up during Provincetown's heyday as a bohemian mecca, the town's more heady heritage also serves as an important influence. In the living area, streamlined banquettes, equipped with weatherproof, cabana-stripped fabrics, are layered with more exotic elements: Indonesian textiles as well lush greens. (See Philip and Kristin's own garden at Before & After: A New Cape Cod Garden for the Old Homestead in Provincetown.)
In the main kitchen, Hein+Cozzi again merged the traditional with the exotic, pairing Moroccan-style tiles with New England shiplap. For the cabinets, the couple selected Fine Paints of Europe in Hollandlac Brilliant (No. S 8000-N), a marine-quality, ultra-high-gloss enamel. Exposed wooden beams and butcher-block counters add a warming element to the charcoal cabinets. Mega Bulb Pendant Lights by &Tradition illuminate the room; $555 from Y Lighting.
Above L: Built-in closets in all of the bedrooms provide ample storage while maintaining a minimal look. Above R: In the upstairs bedroom, the couple devised a clever scheme so as to not completely obscure a characterful, original beam.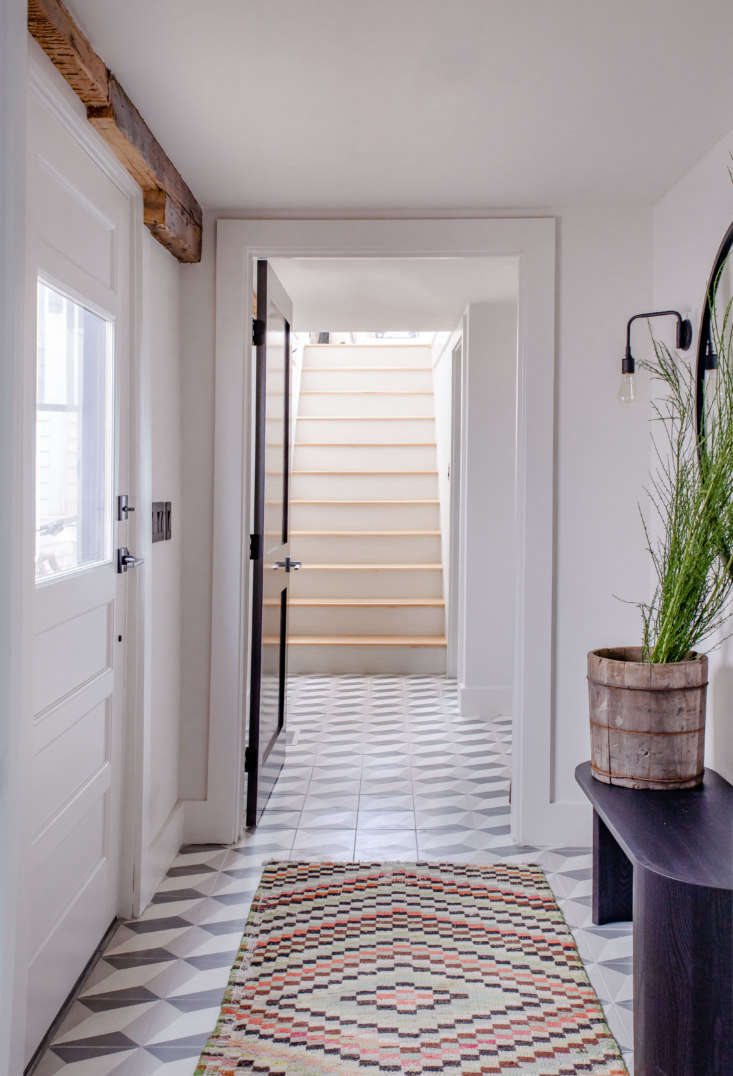 Enjoy your stay in these eclectic Ptown rentals: