Beagle Restaurant (named after an old locomotive that once chugged along the original Northern line) is situated by the Hoxton overground railway station in the London borough of Hackney. Co-owners (and brothers) Danny and Kieran Clancy hired London-based design collective Fabled Studio to restore the three railway arches and turn the space into a 52-seat dining area, bar, cafe, and large outdoor patio. To learn more, go to Beagle.
Photography by Beagle, except where noted.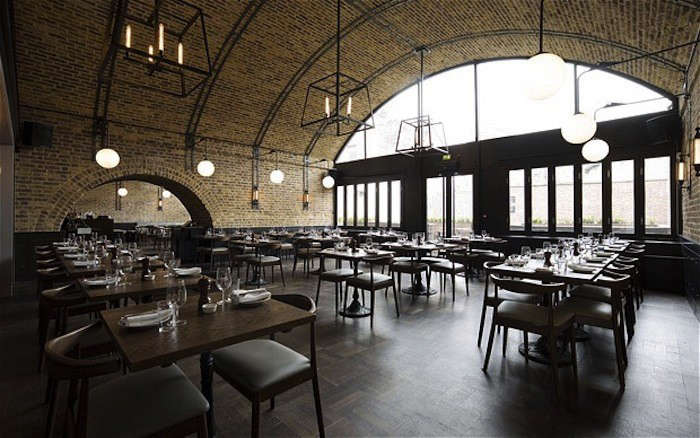 Above: Each arch represents a different seating area (the steel straps that arc across the restaurant ceiling was inspired by Victorian railway cars, which were framed in metal hoops). Photo via The Telegraph. 
Above: The exposed brickwork is original and the flooring is made from reclaimed railway sleepers. Photo via Retail Design Blog.
Above: The lighting was inspired by Adolf Loos chandeliers and old Fresnel lens lamps. Photo by Retail Design Blog. 
Above: With chef James Ferguson at the helm, staff prepares the dishes in an open kitchen.
Above: The bar is clad in a green marble slab. 
Above: Retro-inspired cocktails are served at the deep green marble bar.
Above: Located in the third arch is an Italian-inspired cafe.
Above: The outdoor terrace features wooden planters and furniture made from old railway sleepers. Photo by Retail Design Blog.
Looking for críªpes in London? Make sure to check out The Lost Art of the Buckwheat Críªpe: La Petite Bretagne in London.  
(Visited 12 times, 1 visits today)