Located in an old warehouse space in Richmond, Australia, a suburb of Melbourne, Patch Cafe serves a Paleo-inspired menu (think meat, fish, veg, fruit; what early humans ate) in a simple, unpretentious space with more than a few raw edges. Cofounders Tom Davidson and Jacob Burke turned to interior designers Hana Hakim and Kestie Lane (former partners in the Melbourne-based Studio You Me) to transform the raw industrial space, with its exposed brickwork, arched steel windows, and soaring ceilings, into an intimate dining spot. "Our challenges included a long, narrow space and a fixed budget," Hakim says. "We pulled it off by using inexpensive building materials combined with custom finishes and joinery." Here's a glimpse of the creative space.
Photography by Tom Blachford.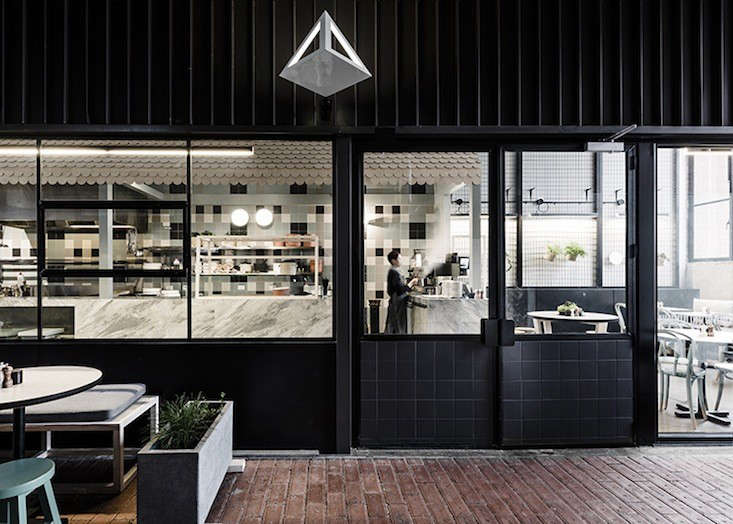 Above: Guests can peek into the cafe through a newly opened black steel facade (which was tied in with the old existing wall and structure), creating a sense of transparency. The patchwork pattern of tiles on the rear wall adds a playful note.
Above: "The central canopy structure that houses the open bar and live kitchen was designed as an integrated installation that provides a lower anchor for the eye and an 'activity hub' for operations," Hakim says. The bar is made from Azzura blue honed marble and features simple wooden shelving. The barstools were painted a custom lacquer shade of green.
Above: "To create a sense of intimacy, we created a feature wall out of inexpensive black builder's wire mesh, which gives the walls a graphic and industrial touch", says Hakim. "We hung fun, quirky, and functional objects from the wall to add visual interest," Hakim says.
Above: Furnishings are custom-made from plywood and stained in a whitewash finish to bring out the grain of the raw timber. The lighting is by TossB.
Above: The waiters' station is constructed from cement sheet, concrete, and wood, with a lab sink and tap fittings by Astra Walker.
Above: The large arched steel window provides abundant light to the narrow space. The built-in seating is upholstered in heavy-duty fabric to offset the soft hues of the space.
Above: The plywood scalloped shingle canopy above the bar area imparts a village vibe to the industrial warehouse space. A geometric pattern of soft blue, black, and gray tiles creates a whimsical backdrop to the bar.
For more on Melbourne:
You need to login or register to view and manage your bookmarks.