Based just north of Paris, interior designer Marianne Evennou believes that houses have souls and are the "carriers of mysteries and stories"; her aim is to "create interior spaces that transcend fashion and trends and are a refuge from the world." For this loft, designed for her friends Helene and Marc, she used a pale gray as a base color and unleashed a subtle combination of aqua, dusty rose, cornflower blue, and Hermés orange as accent colors–an unlikely palette, but we think it works.
Above: A velvet upholstered sofa adds a dash of color to the living room, which is painted a cool gray.
Above: A polished aluminum Arco Floor Lamp from Flos ($2,950 at the Dwell Store and Y Lighting) adds a dash of glimmer to the space.
Above: An LC4 Chaise Longue in cowhide, designed by Le Corbusier ($4,050 at DWR), sits next to a Noguchi Floor Lamp 10A ($450 from Surroundings)
Above: A five-arm Serge Mouille light fixture hovers over the dining table; the line is available online at Horne.
Above: The dining table is surrounded by a set of Cherner chairs ($749 each at DWR).
Above: The living space is divided by interior steel factory windows.
Above: The kitchen features an unexpected combination of dusty pink and steely gray.
Above: Evennou painted a wall mural in the bedroom.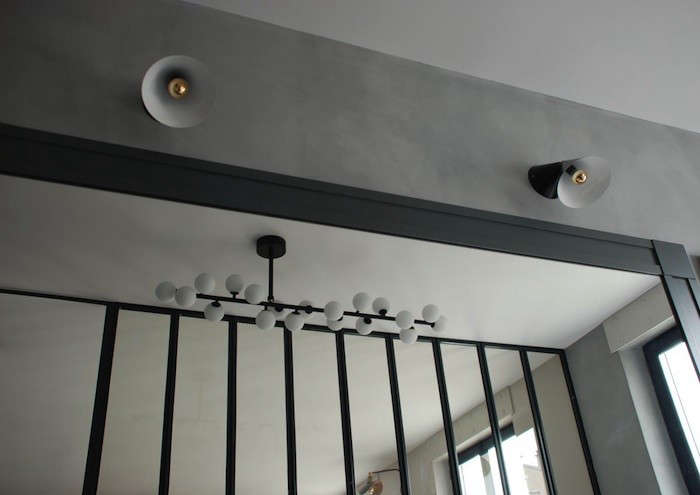 Above: In the bath, a pair of Cone Lamps from Atelier Areti provides illumination (€210 from I/Object in Belgium).
Above: In the bathroom, a mirror frame painted gray contrasts with the lighter gray of the walls.
For another example of how Evennou incorporates unexpected colors in her interiors, see Steal This Look: Offbeat Colors in a Bathroom in France. And to see a more neutrally shaded project, go to A Modern Atelier in France, Books Included.
(Visited 791 times, 3 visits today)