The most striking interiors I've seen this summer? They're at the very tip of Italy's heel, in the town of Gagliano del Capo, in a 150-year-old villa-turned-hotel woven through with courtyards and groves of orange trees.
The property was built in 1861 by architect Domenico Malinconico and had been in the family of avid art collector Francesco Petrucci for five generations; deciding what to do with it, he partnered with Gabriele Salini, the hotelier behind one of Italy's most singular hotels, G-Rough in Rome; then the designers Ludovico and Roberto Paloma of Palomba Serafina Associati. "Inspired by the idea of absence," according to the hotel's website, the team stripped the interiors back completely—leaving only the vaulted frescoed ceilings above and mosaic tiled floors below, cracks in the walls and a palette of pale blues, golds, periwinkles, and pinks—then added, sparingly, sculptural fittings and findings from Petrucci's contemporary art collection.
Palazzo Daniele opened fully in April, and its nine suites, each with views of the courtyards or still blue pool, are now available to rent. Take a look.
Photography via Palazzo Daniele.
Above: Original frescoed ceilings, carefully restored, make for a colorful backdrop to clean-lined furniture and contemporary art..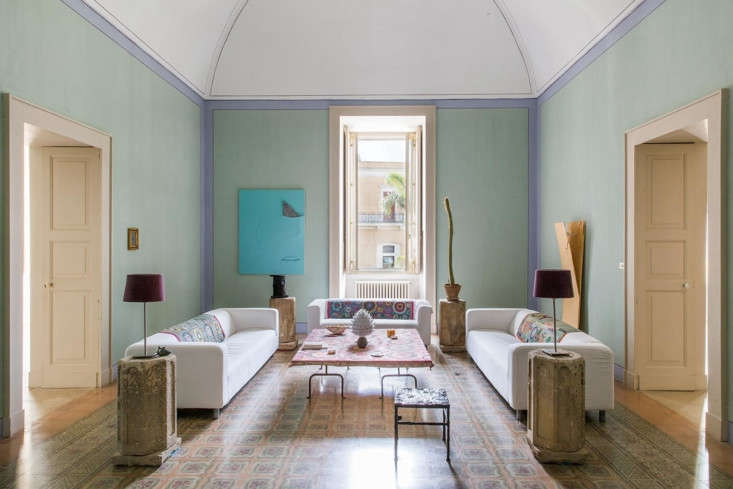 Planning a trip to Italy (or just dreaming of one)? Take a look at a few more favorite properties:
(Visited 94 times, 1 visits today)