The bright blue plywood and galvanized metal decor of Vancouver's Kin Kao, designed by local architects (and Remodelista favorites) David and Susan Scott of Scott & Scott Architects, is a perfect match for chef Tang Phoonchai's upstart Thai menu: Street food comes inside to a warm welcome.
Photography by Scott & Scott Architects, unless otherwise noted.
Above: Scott & Scott Architects designed the 25-seat restaurant using economical and readily available materials, such as stained plywood, painted concrete, soaped beech, and galvanized metal. "We were trying to balance looks and durability," says David. "The beech [counter, chairs, and table], for instance, will age comfortably and can be easily refinished over the restaurant's life."
Above: Open storage behind the bar provides easy access to tableware. Large windows draw in light, and at night the space is illuminated by linear pendant fixtures. Photograph by Stephen Wilde.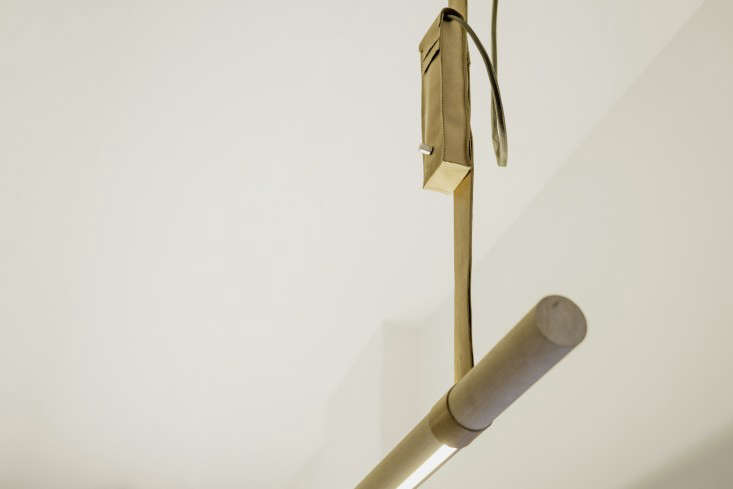 Above: The architects designed the lights and fabricated them in their studio. "We started with a design that utilized beech at the ends only, but when we received the full-length dowels from the wood turner, we couldn't bring ourselves to cut them into short chunks." Photograph by Stephen Wilde.
Above: Stackable Beech Copenhague Chairs by Ronan and Erwan Bouroullec for Hay are paired with beech and metal tables designed by the architects. Photograph by Stephen Wilde.
Above: Made with local ingredients, Phoonchai's street-food and home-style dishes take center stage against white tableware. Photograph by Stephen Wilde.
Above: Situated at the back of a nondescript strip mall, Kin Kao, it's hoped, will serve a community of shop workers and employees from local manufacturing and commercial businesses. Photograph by Stephen Wilde.
Above: The custom cerulean blue concrete floor is tinted with a commercial acrylic paint from Vancouver's General Paint. "We honed in on the exact blue by trying out a number of samples," says David. "We like this one because it resonates with the natural light in the space."
Above: The bar is made of construction-grade Douglas fir plywood washed with a thinned application of the blue floor paint. 
Above: The service area walls are finished with galvanized panels for easy maintenance. They act as a magnet board for hanging the daily specials.
Above: The grain of the plywood is visible through the wash of floor paint.
Above: Beech Copenhague Bar Stools by Ronan and Erwan Bouroullec for Hay stand out against the blue background. 
Above: Chef Tang Phoonchai is originally from Bangkok and draws heavily on the food of his childhood. Photograph by Stephen Wilde.
Above L: An axonometric drawing of the restaurant. Above R: The plan illustrates the dining area's flexible table and seating setup, which allows the room to be used for small seatings or reconfigured for communal meals.
N.B.: This post is an update; the original story ran on February 25, 2015, as part of our Clean Living issue.
For more places to visit in Vancouver and beyond, browse our City Guide gallery. And don't miss our posts on David and Susan Scott's own Off-the-Grid Cabin and another of their restaurant designs, Bestie Currywurst in Vancouver's Chinatown.
(Visited 423 times, 1 visits today)