Two kitchen trends that we're seeing on the horizon: The return of the 1970s-style tiled countertop, an economical option that provides a durable grid-work surface. And rich leafy green as the color to follow the current petrol blue craze (see The Cult of the Blue Kitchen). We have a feeling Al Gore would approve.
Both of these elements are prominently on display in the airy open kitchen at Layer House, a private vacation home near the coast in Victoria, Australia, designed by architects Kathryn Robson and Chris Rak of Robson Rak. Come see what you think.
Photography by Shannon McGrath and styling by Swee Lim, courtesy of Robson Rak.
It's known as the Layer House, according to the architects, because it was "designed as a series of 'layers,' with intersecting zones and private vistas." Adds Robson, "While we used a simple and pale palette of timber, rammed earth, and a pale concrete, we added some strategic graphic insertions to the design to excite and delineate areas. The green-tiled island bench is one such example."
The green tiles, Robson tells us, are "a hardwearing, commercial grade tile"—sourced from Melbourne purveyor DeFazio Tiles & Stone—that "help connect the landscaping with the internal space." The copper-plated steel hanging lights are Nathan Yong's Parachute design by Ligne Roset. The range is a Lacanche.
What makes the polished concrete floor look like terrazzo? "We added a lot of white stone aggregate to it to make the resulting product quite textured," says Robson, noting that it's fitted with hydronic heating to warm the house in winter (see 
Five Things to Know About Under-Floor Heating
). The floor's equally notable counterpart, the vast paneled ceiling, is banjo pine shiplap, which was installed individually and then painted white. Learn about shiplap cladding in
The Enduring Appeal of Shiplap
and 
Remodeling 101: The Ultimate Wood Paneling Guide
.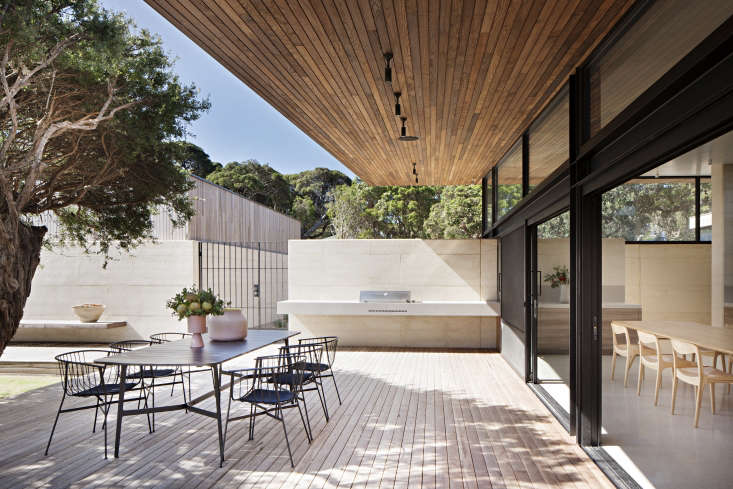 For more inspiration, see 16 Favorite Indoor-Outdoor Kitchens from the Remodelista Archives.
(Visited 143 times, 2 visits today)