Early this week we featured the best of New-York deli cuisine in Berlin. Now we present the flip-side: best of German culinary tradition in New York.
Located in Gotham's West Village and Lower East Side, Landbrot is a bakery and bar "celebrating the rich culinary traditions and hearty spirit" of Germany. Serving an array of homemade baked-goods as well as German fare and micro-brews, Landbrot offers a taste of Germany from morning until the-wee-hours-of-the night.
Conceived by Courtney Fikri of Cenk Fikri Inc. for her client, German businessman Volker Herrmann, the design—a seamless blend of New York, industrial-loft style and the cozy, wooded, comfort of a traditional German cafes—was executed with the help of David Howell architects.
Above: Traditional German fare is served atop Landbrot's marble bar. The light fixtures are by Hudson Valley Lighting while the barstools are from Overstock.
Above: Combining the best of both worlds, Landbrot's marble and subway tile interior evokes the lofty style of some of New York's old-school restaurants but still maintains the warmth and intimacy of Bavarian style.
Above: DWR salt chairs provide seating at the tables.
Above: Traditional brezeln entices patrons at the counter.
Above: Fresh out of the oven, Landbrot's bakery offers homemade pastries and breads—including the crusty loaf for which it's named.
Above: Fresh bread and morning brew are presented in Landbrot's signature, green paper goods.
Above: Landbrot also sells imported and homemade sides and condiments at its counter.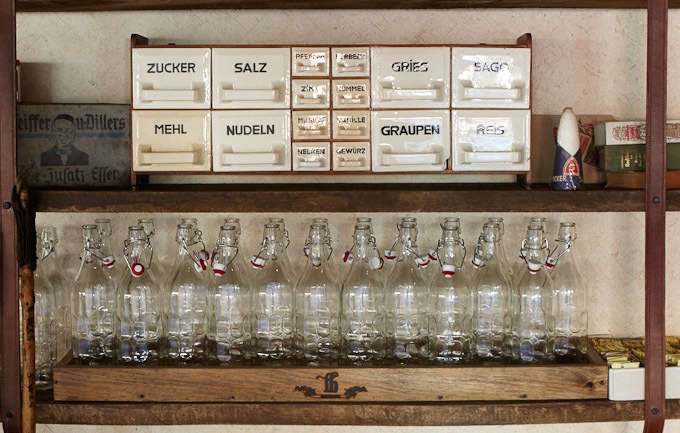 Above: Rustic touches like these water jugs and spice containers add to the "homey" vibe.
Above: Opposite the salt chairs, banquettes feature cushions, custom-made from 300-year-old flour sacks that Courtney found in German barns.
You need to login or register to view and manage your bookmarks.