When I read about the home-smoked, pepper-crusted pastrami sandwiches served up with a side of salted pickles à la Katz by native New Yorker Joey Passarella, I was ready to hop in my car and head straight to the Big Apple for a sample. Only problem: the latest in Jewish-American food is not in New York, it's in Berlin.
Located in a former Jewish girl's school, Mogg and Melzer offers up a rare blend of homemade comfort, retro cool, and a hipster vibe that only two former night-club owners and DJs could contrive. In coming up with a concept for their eponymous delicatessen, owners Oskar Melzer and Paul Mogg clearly paid as much attention to the design as they did to the menu. Starting with an original table from Tapiovaara that the pair found in Holland, the design evolved to include more timeless midcentury finds, as well as locally crafted pieces, all carefully edited to create a decidedly contemporary feel. The result is a new American standard, Berlin-style.
Photos, except where otherwise noted, by Steve Herud.
Above: The piece that started it all: an original Pirkka table and chair set by Finnish designer Ilmari Tapiovaara was the launching point for the design scheme.
Above: The main dining area of Mogg and Melzer showcases the deli's seamless blend of old-world charm with a contemporary vibe.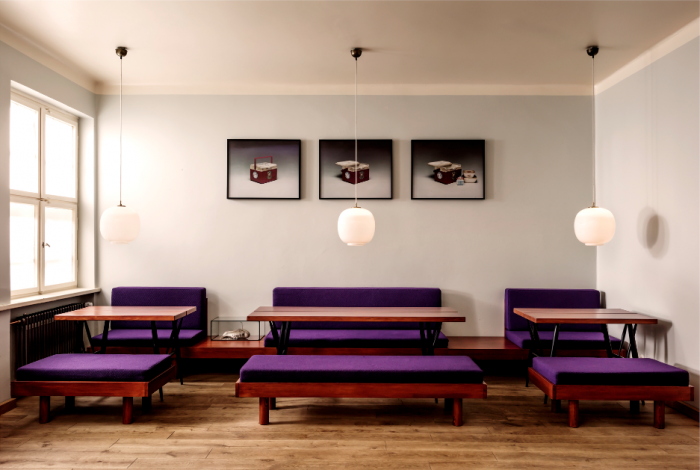 Above: A bit of local color: the eggplant benches were designed by Berlin furniture manufacturer Tipla. The pendants are vintage Danish modern lamps.
Above: Works by artist Roman Moriceau flank the deli counter, where Joey Passarella works under a trio of lights by Tom Dixon.
Above: A piled-high pastrami sandwich; the dinnnerware is by Barrington Pottery from Paul's native Somerset. Photo by Ailine Liefeld.
Above: Transformed into a piece of art by Johannes Albers, one of Oskar's old shoes provides a witty accent.
Above: Proprietors Oskar Melzer and Paul Mogg sit under a triptych by Sharon Lockhart.
You need to login or register to view and manage your bookmarks.