Bridgehampton-based Stelle Lomont Rouhani Architects (formerly Stelle Architects) specialize in beach dwellings based on the "less is more" principle. Inspired by indigenous forms and materials, the firm's approach to design and construction is non-invasive and low maintenance; the architects aim to create environments that respect and celebrate the beauty and fragility of the natural landscape on which their projects reside. "Even before I became an architect, I fantasized about how small a space I could live in," says founder Fred Stelle. "Thoreau's cabin comes to mind." To see more of the firm's work, go toStelle Lomont Rouhani Architects.
Above: The Bay Residence by Stelle Lomont Rouhani Architects (formerly Stelle Architects) sits on a rolling six-acre site, which is traversed by a winding half-mile sand covered driveway. The 90-foot-long steel, glass and wood box is cantilevered from a perpendicular concrete plinth, exposing its structure for a tectonic clarity. The south-facing wall of the house is covered with rolling wooden louvered panels to filter the summer sun.
Above: Under the house, a private, outdoor sitting-room and fireplace is surrounded by dunes and native vegetation.
Above: The center public spaces are open to the front and rear patios.
Above: The pool is located in the north-west corner of the patio allowing the water to flow over two sides.
Above: The polished concrete floor flows throughout the interior and exterior patios.
Above: Floor-to-ceiling windows bring the outdoors inside while discretely placed terraces and decks expand the sense of space.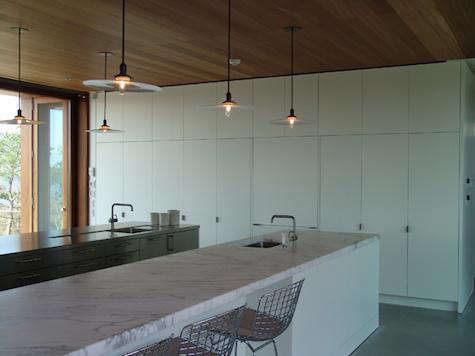 Above: Simple rectangular islands in the kitchen echo the simplicity of the box-like structure.
Above: Photographs by Jeff Heatley.
You need to login or register to view and manage your bookmarks.