San Francisco architect Malcolm Davis (a member of the Remodelista Architect/Designer Directory) operates out of a two-story building in the Mission district that once served as the carriage house of the San Francisco mayor in the 1870s. When Davis purchased the property a few years ago, it was in a state of disrepair; Davis stripped the building to its studs and opened up the upper level to provide office space for his practice (downstairs, his partner Thomas Lackey runs the Stable Café). "I like to save structures and reuse them," he says. Davis is also a collector of objects and sculptural curiosities, which he unearths at flea markets, on nature walks, and during his travels. To see more of his design work, go to Malcolm Davis Architecture.
Above: Davis' office is located on the second floor of the Stable Cafe.
Above: Davis and his team painted the exterior a shade they call "Mole," a rich, dark custom paint color they devised after a trip to Europe.
Above: Davis at work; in the background is a glass roof tile found on a trip to Copenhagen and a lamp beacon from a decommissioned radio tower.
Above: Davis constructed a private office within the otherwise open office space.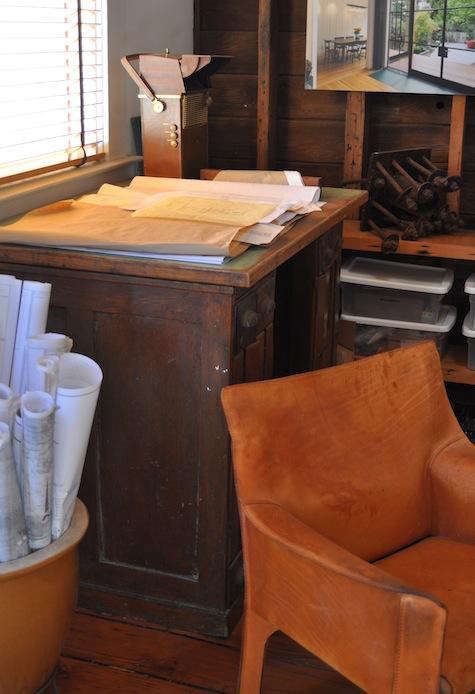 Above: In a corner of the office, a salvaged work table supports a vintage portable television; an oversize ceramic pot holds architectural drawings, and a vintage Italian leather chair heads the conference table.
Above: An operating-room lamp stands next to a sculptural piece of wood.
Above: Davis finds inspiration "when the blurring of the line of the manmade and natural occur," such as this Bertoia side chair with entwined branches.
Above: An antique pewter bucket holds drafting brushes.
Above: The office WC features an antique claw foot tub with vintage brass fixtures.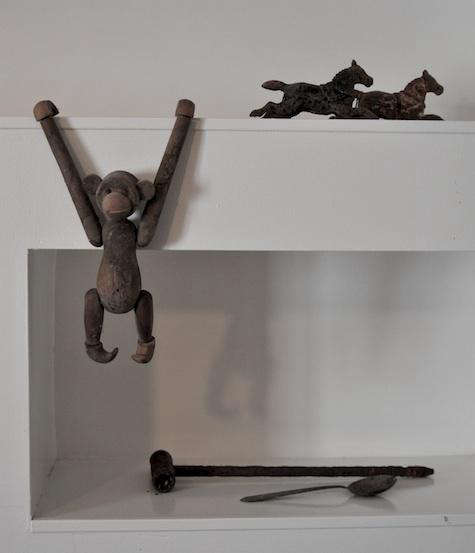 Above: A collection of found objects; photos by Janet Hall.