Man's thirst for cocktails can be traced back to 7000 B.C. South America, where gourds were hollowed out and used as closed containers for mixing drinks. The Egyptians and 16th-century Mexicans enjoyed a few cocktails, too, but drink culture didn't really get off the ground until the mid 19th century with the Boston shaker. This simple device was created by someone (presumably in Boston) who joined together a tin cup and a glass–then shook the liquid contents with ice and poured the elixir into a fresh glass using a strainer.
The French admired American cocktail culture decades before F. Scott Fitzgerald got there, and in the 1870s created the Parisian shaker, urn shaped and accompanied by a strainer. The cobbler shaker commonly in use today was born in Brooklyn in 1884 and named after a popular cocktail of the day. It improved upon its predecessors thanks to two added conveniences: a built-in strainer and a cap that doubles as a liquid measure. The cocktail shaker reached new heights of popularity during Prohibition and, despite competition from blender drinks in recent decades, continues its merry reign. 
Five to Buy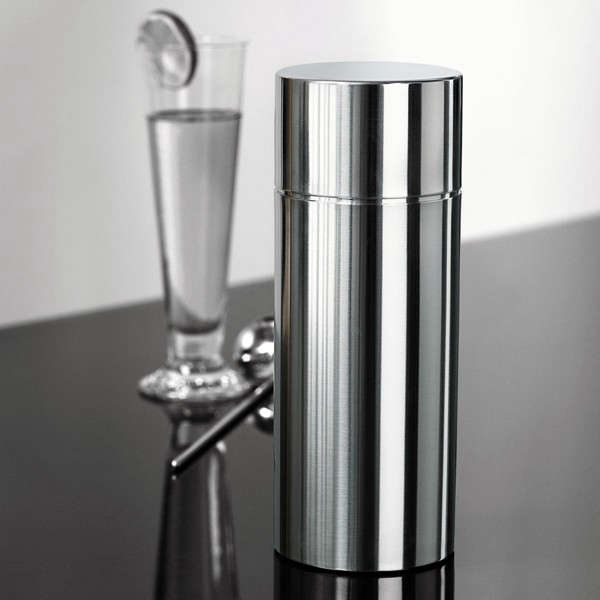 Above: Designed in the 1960s by midcentury Danish designer Arne Jacobsen, this nine-inch-tall, stainless-steel Cocktail Shaker is $199 at Huset.
Above: The stainless steel Cocktail Shaker by Cuisinox is $29.99 from All Modern.
Above: The Pewter Cocktail Shaker from Match is made by metalsmiths in the Lombardia region of Italy; $349 from Kaufmann Mercantile.
Above: The stainless steel Alessi Cocktail Shaker with mirror finish is $128 at Barneys.
Above: The stainless steel Insulated Cocktail Shaker is $44.95 from Williams-Sonoma.
Object Lessons columnist Megan Wilson is the owner of Ancient Industries and the curator of the Remodelista 100, a collection of essential everyday objects presented in the Remodelista book. Watch for her column every Tuesday, and have a look at her past lessons on iconic designs, including the Indispensable Desk Stapler and Iconic Cafe Ware from Duralex.
You need to login or register to view and manage your bookmarks.