When Sophia Goigoux-Becker's clients approached her to transform their newly acquired Normandy property La Pie (The Magpie) into a large family home, one of the main concerns was where to create their ideal kitchen and living room. Light was a definite priority, along with the desire for space and conviviality, as the couple enjoys cooking and entertaining friends. Dividing their time between Paris and Normandy, the family of four had been living in the same village for over ten years, and one of the parents had been holidaying there since childhood. Studio Becker's ground-floor renovation needed to respect the owners' attachment to the region and their love of the landscape and local materials, all while brightening up some of the northern grayness with a warm palette from the south.
Originally La Pie had been a home for senior citizens, then partially converted into a holiday cottage destined to accommodate two occupancies in separate wings. By joining these together, Becker was able to convert the property for single-family use. The first step was to demolish two concrete outbuildings in order to create a generous reception area, complete with new facade, opening onto a larger garden. This enabled a rejig of the ground floor layout with the creation of a spacious kitchen, scullery, lounge, laundry room, bathroom, and office.
Let's have a closer look at the newly completed kitchen and reception/lounge area:
Photos courtesy of Studio Becker.
To warm up the atmosphere, the existing sandstone floor was painted with Slaked Lime by Little Greene, and the custom-made cupboards were painted with Argile's Sienne Calcinee, recalling the Sienne river nearby.
Becker opted for a long line of worktops along the widest wall to leave more room to circulate, and also to hide as many appliances as possible. Coffee machines, toasters, kettles, and the like are tucked away in kitchen cabinets under a bespoke niche; the fridge is hidden under the staircase, the access to which is concealed by a secret door; and the oven has been placed in the least visible part of the room.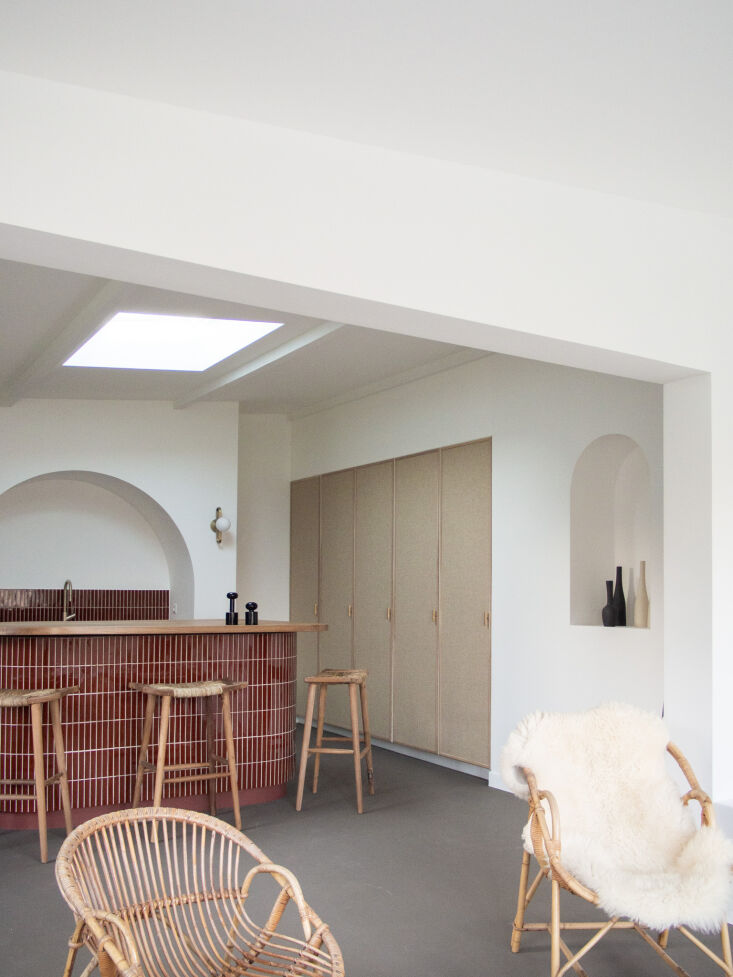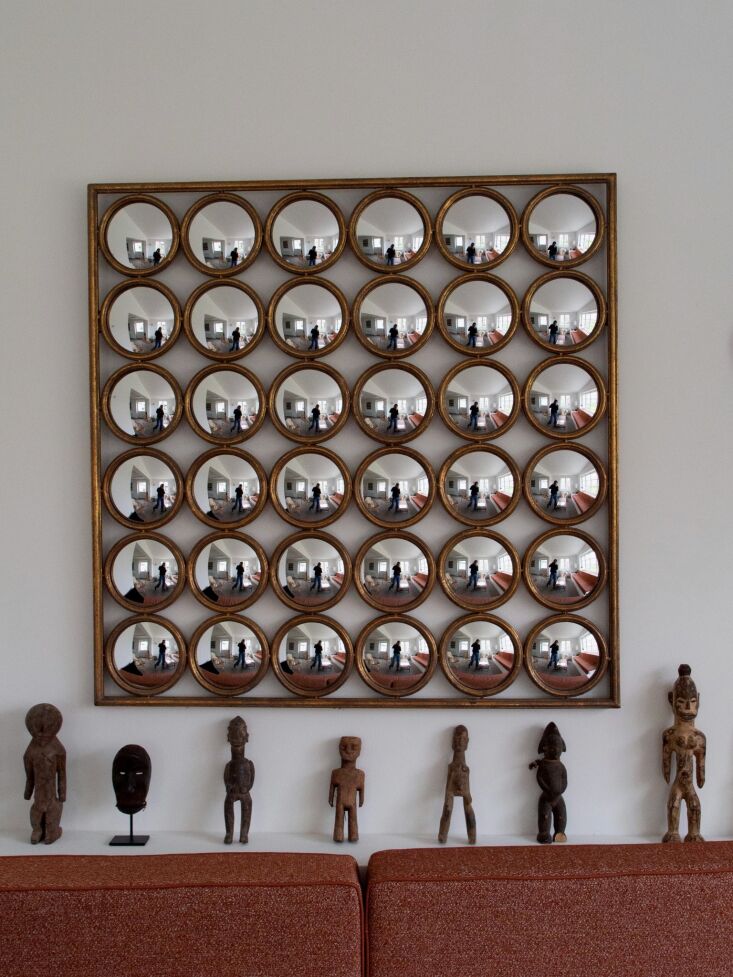 The family have been living in their remodeled Normandy home for a year now and are very happy with the result. They are proud to entertain guests and hear how relaxed they feel, as though they were in Lanzarote.
For more information about La Pie, the architect's first solo renovation and interior design project, visit Studio Becker.
(Visited 6,439 times, 4 visits today)
Frequently asked questions
Where is the kitchen studio located?
The kitchen studio is located in Normandy, France.
What is the name of the kitchen studio?
The kitchen studio is called Studio Becker Remodel.
What does the kitchen studio specialize in?
The kitchen studio specializes in designing and remodeling kitchens.
What can I expect to find at the kitchen studio?
At the kitchen studio, you can expect to find a wide range of kitchen designs, cabinetry, and appliances.
Do they offer custom kitchen designs?
Yes, the kitchen studio offers custom kitchen designs tailored to individual preferences and needs.
Can I visit the kitchen studio in person?
Yes, you can visit the kitchen studio in person to explore their showroom and discuss your kitchen remodeling project.
Do they provide installation services?
Yes, the kitchen studio provides installation services for their products and designs.
Are there any design consultations available?
Yes, the kitchen studio offers design consultations to help customers plan and conceptualize their ideal kitchen space.
Can they assist with kitchen remodeling projects?
Yes, Studio Becker Remodel can assist with kitchen remodeling projects from start to finish, providing design expertise, product selection, and installation services.
Is there a portfolio of their previous work available?
Yes, you can find a portfolio of Studio Becker Remodel's previous kitchen designs and remodeling projects on their website.