Coyuchi, a Remodelista favorite for organic linens, is giving away a $1,000 Gift Card to one lucky Remodelista reader. On Wednesday we shared some choice Coyuchi Classics, and today we've gathered five favorites from Coyuchi's new offerings for fall.
New to Coyuchi? The Marin, California, company makes highest-quality organic and ethically made linens for bed, bath, table, and more, and has long been a Remodelista go-to source for bedding, towels, and gifts. For more from Coyuchi, follow our shared Nature-Inspired Textiles board on Pinterest.
Scroll below for our Coyuchi picks for fall, and don't forget to Enter to Win a $1,000 gift card from Coyuchi by September 10.
Above: Coyuchi's new Cascade Coverlet is the ideal extra layer for turning a lightweight duvet into a bed ready for colder nights. The blanket is made of 100 percent organic cotton, woven in Portugal, and stitched with an all-over pattern to give it a rumpled, quilted appearance. It's available in four colors–(from top) Granite, Alpine White, Pale Ocean, and Indigo–and priced at $298 for full/queen and $348 for king. Matching Cascade Shams are available in standard ($58) and Euro ($78).
Above: The artwork for Coyuchi's new Dotted Lantern Printed Sheets was painted with a fine-tipped watercolor brush, inspired by intricate patterns found throughout Morocco. The pattern was reproduced in exacting detail in two shades–Deep Pewter and Tonal Oceans–on white 200-thread-count organic percale sheets. Standard sheet sets (one flat sheet, one fitted sheet, and one pillowcase for twin, two pillowcases for larger sizes) are priced from $248 for twin through $348 for king.
Above: The newest addition to the Coyuchi bath towel range, plush Cloud Loom Towels are made of extra-long staple organic Turkish cotton for a luxurious, slightly shaggy feel. The towels are available in five colors, including (above right) Palest Ocean and Natural, starting at $18 for a washcloth through $68 for a bath towel. At left are Coyuchi's beloved Mediterranean towels–thin but absorbent, in the traditional Turkish style; $8 to $68.
Above: Coyuchi's new 500 Thread Count Supima Sateen sheets are the grandest in Coyuchi's lineup of Supima–a long staple premium American cotton of superior softness and durability (read more about Supima on the Coyuchi Blog). Sheets and duvets are available in two colors–Alpine White and Natural–and start at $448 for a full/queen duvet tahrough $598 for a king sheet set.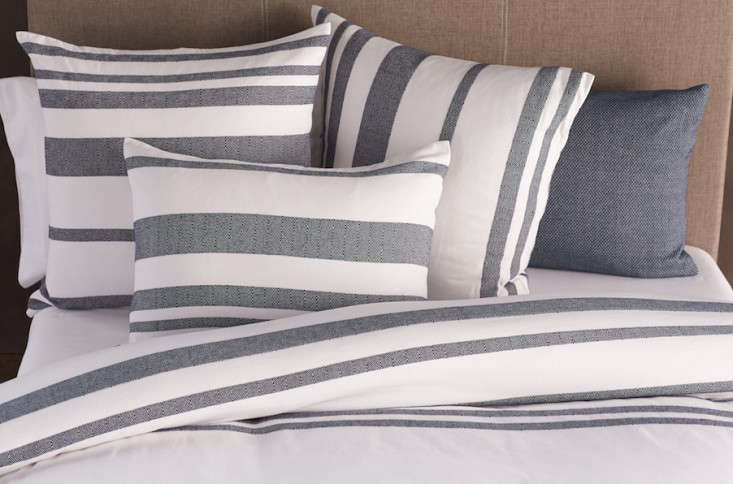 Above: Coyuchi's new Cambria collection is truly global: The duvet takes its name from Cambria, California–an ocean-loving town on the central California coast–and is made in an Indian factory that recycles 98 percent of its wastewater. Upon closer inspection of the collection's irregular indigo stripes, you'll find tiny woven diamonds–shapes inspired by traditional African blankets. The well-traveled Cambria starts at $298 for a full/queen duvet, with matching shams from $58.
Don't delay: Enter the Remodelista + Coyuchi $1,000 Giveaway by September 10.
(Visited 39 times, 1 visits today)