Inventive lighting stole the show last week at ICFF in New York. Among our favorite finds: London designer Naomi Paul's organic modern pendant lamps that she hand crochets, marrying the tactile with the architectural. The designs are all made to order and range in size from 15 inches tall (tailored to fit Paul's own low-ceilinged flat) to vast sculptural chandeliers that take her months to complete. Bonus: they collapse and pack flat.
Photographs courtesy of Naomi Paul.
Above: A graduate of the Chelsea College of Art and Design in constructed textile design, Paul crochets her shades around a powder-coated framework using special mercerized cotton cord that she developed (the material is sourced from an Italian mill and knit into cable yarn in Yorkshire). She describes her pendants as "quietly opulent"; the design shown here is the Monika light.
Above: Though most of Paul's pieces are scaled to large rooms, the Vex, with "tessellating 20 degree angled edges," doesn't require height. All of her lights are available in a range of colors and come with woven cotton electrical cording (also in choice of colors). Each is labor intensive: the simplest design takes two and a half days to make. Prices are available on request.
Above: A trio of Glück pendants. Paul's lights are designed to work with Plumen low-energy bulbs. Every element is sourced within the UK (aside from the yarn) and the entire production is UK based.
Above: The V2 Glück, one of Paul's just-introduced pieces, has an open shade. When lit, she notes, "the characteristic openwork of the crocheted surface gives the entire shade an effervescent glow ideal for dining tables and overhead lighting." The interior of the shades are crocheted (to conceal the framework and bolster the construction) and can be finished in a color that contrast with the exterior.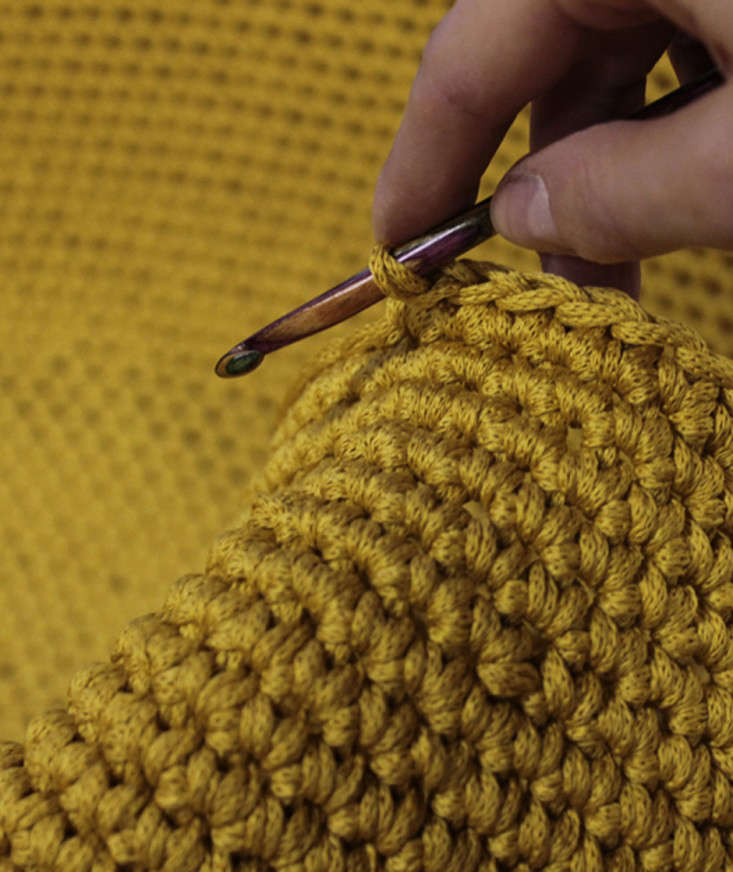 Above: Paul's shade designs are mathematically complex but she uses nothing more than a bamboo crochet hook to make them.
Above: A Glück pendant in navy.
Above: Paul also makes other designs on commission. Shown here, her Steamer Chair with knit mohair cushions, and knit and crocheted Macaroon floor cushions, and Triangle Rug. For more information, go to Naomi Paul.
Go to our Gallery of Rooms and Spaces for more Lighting ideas, including designs from Standard Socket, a Seattle lighting collective that works with emerging talent. And if you're looking for Outdoor Lighting, Gardenista has some ideas for you.