Ten years ago, Michael L. Cioffi, a high-powered Cincinnati-based corporate lawyer with a passion for Renaissance history, celebrated his 50th birthday with his extended family by renting a villa in the green hills of the Val D'Orcia in Tuscany. His house had been restored and revived by Rome designer Ilaria Miani, and Cioffi was so impassioned by its ancient-meets-modern minimalism– and by the landscape itself–that he bought his own crumbling villa nearby and put Miani on the job. That was the first of a long series of projects he presented Miani and team with–because gradually Cioffi found himself acquiring much of the all-but-deserted 900-year-old village of Castiglioncello del Trinoro, just up the hill from his house.
Cioffi now presides over a boutique hotel, the Monteverdi, three surrounding rental villas in formerly boarded up 13th-to-16th-century structures, a blue-chip art gallery (and artist-in-residence program), a music festival, and a chapel (where last summer Wes Anderson screened one of his shorts for guests). Oh, and there's a spa opening this July.
Cioffi's passion project is set up to be sustainable, but he insists he's more interested in creating his own "Renaissance movement for the 21st century" than making a profit. And, he points out, the 10 or so residents who were in the village when he arrived are still there–as are 60 new employees. Take a look.
Photography via Monteverdi Tuscany.
Above: This is not a movie set, though it's no wonder that Wes Anderson made the pilgrimage. The hamlet sits atop a hilltop with magical views all around. 
Hotel Monteverdi
Above: The hotel occupies a cluster of 16th-century buildings. Designer Iliara Miani's challenge was familiar to her from years of working in the region: The Val D'Orcia is a UNESCO World Heritage site, and no exterior changes can be introduced. 
Above: On the interiors, Miani was able to transform what had been last used as a 30-room pensione into 10 spacious rooms and suites, no two alike. Shown here, the Vergilius Room has twin beds on wheels that can be pushed together or apart. The room can be combined with the adjoining one to create a family suite.
Above L and R: Miani's custom lights are her 21st-century answer to castle torches. Travel + Leisure dubbed her look "elegant monastic."
Above: Owner Cioffi loves luxurious bathrooms and made it Miani's mandate that no two look anything alike, and that each offer sinks and showers with views. Shown here, Suite Sant'Andrea's stone sink original to the structure and clever hanging accessories caddy. The toiletries are made with ingredients from small farms by La Saponaria.
Above: The star feature of the Il Pozzo Suite is an 18th-century copper bathtub under the original beams.
Above: The Tuscan-farmhouse-inspired La Pieve Suite has a wood-burning fireplace and a king-size bed (Cioffi is tall and decided that king-size should be the norm).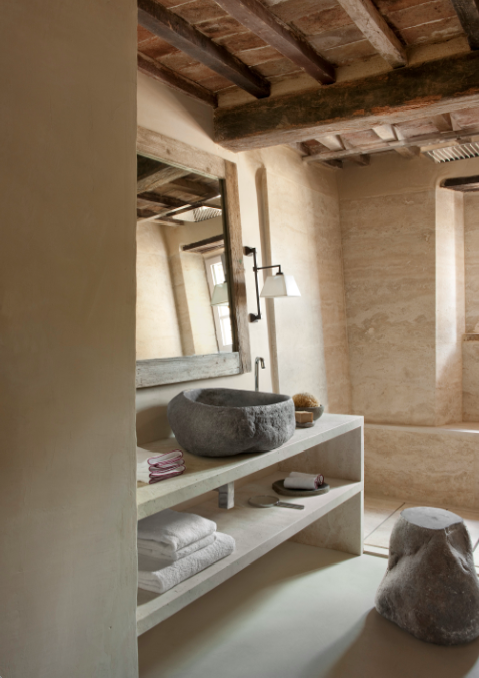 Above: A modern Stone Age sink paired with travertine in the La Pieve bathroom.
Above: Suite del Bosco is intended to conjure "a walk in the forest." The sculptures are Ilaria's "nod to the village farmers who used similar structures to dry grains." All the linens in the hotel and villas are supplied by venerable Italian company C&C Milano.
Above: The honeymoon-ready Val D'Orcia Suite offers an en suite bathtub and sink for two, and heated towel bars. 
Above: With its rock walls, the hotel restaurant, Oreade, has a cozy subterranean feel (though it's on the first floor).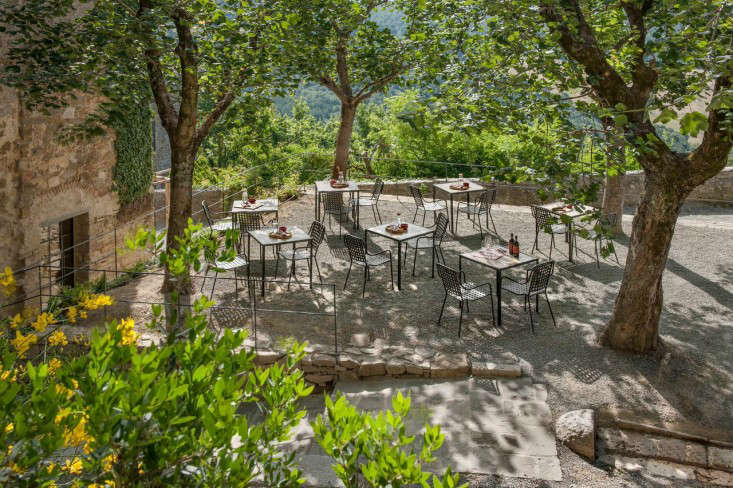 Above: A shady terrace extends off the in-house wine bar.
Above: A terraced garden wraps around the back of the hotel.
Above: There's also an infinity pool.
Rental Villas
Above: There are three rentals that range from two bedrooms to six, and each has its own terrace and outdoor sitting area. They start at €6,500 ($6,860) per week.
Above: The six-bedroom Villa Muri Antichi comes with a library in pale greens with original archways. 
Above: The smallest of the villas, the San Pietro, has a compact kitchen. And did we mention that cooking classes are available?
Above: One of the San Pietro's two bedrooms. 
Above: Villa Muri Antichi has a fortress-like stone facade.
Above: Vine-shaded outdoor dining–with built-in lighting.
The Village
Above: The road to Castiglioncello del Trinoro.
Above: Most of the stone structures are now part of Monteverdi, but the restoration has avoided a Disneyfied feeling.
Above L and R: Historic doorways are another reason to come.
Above: The 12th-century chapel, formerly a near ruin, has been fully restored inside and out and now has first-rate acoustics. In addition to church services and weddings, concerts, talks, and performances regularly take place here.
Above: The cypress-lined road from the village heading toward Siena. Castiglioncello del Trinoro is located midway between Rome and Florence. It's a two-hour drive from the Rome airport. For more details and reservations, go to Monteverdi Tuscany.
Planning a trip to Italy? For our favorite hotels, restaurants, and shops, consult our City Guides. Another Tuscan art hub and hotel that we recommend is Villa Lena. On Gardenista, take a look at Sting's Tuscan Vineyard Estate.
You need to login or register to view and manage your bookmarks.