The brother-and-sister team behind Stattmann Neue Moebel describe what they make as "unpretentious furniture with surprising details." Our obsession with their work dates back to our first brainstorming meeting for Remodelista: The Organized Home: Having seen a few photos, Julie and Alexa insisted that we order their entry rack for our opening chapter, and that elegant, hardworking piece—see it below and on page 26—ended up setting the standard for every page in the book.
Stattmann Neue Moebel's thoughtful approach, it turns out, comes from experience. The company is run by Nicola and Oliver Stattmann, who are fourth-generation furniture makers. Nicola has a degree in product design and is the art director; Oliver, a master cabinetmaker and wood technician, oversees the workshop. Based in the mill that their great-grandfather built "in the midst of meadows and fields" in the village of Ascheberg in Westphalia, Germany, they make custom designs for houses and commercial settings. They also produce their own line of carefully crafted minimalist wooden furnishings: a stool, chair, bench, table, and shelving. All are versatile, lovely to look at, and made to last. Come see.
Photography by Julien Renault unless noted, courtesy of Stattmann Neue Moebel.
Stacking Stool
The workshop makes use of classic joinery as well as CNC (computer numerical controlled) milling, which, they say, enables them to create solid wood pieces that are both lightweight and sturdy. Like all Stattmann designs, the stool comes in natural ash, as well as a range of colors created with water-based stains and sealed with a matte solid wax. Photograph by Thomas Walter via Atelier Ordinaire.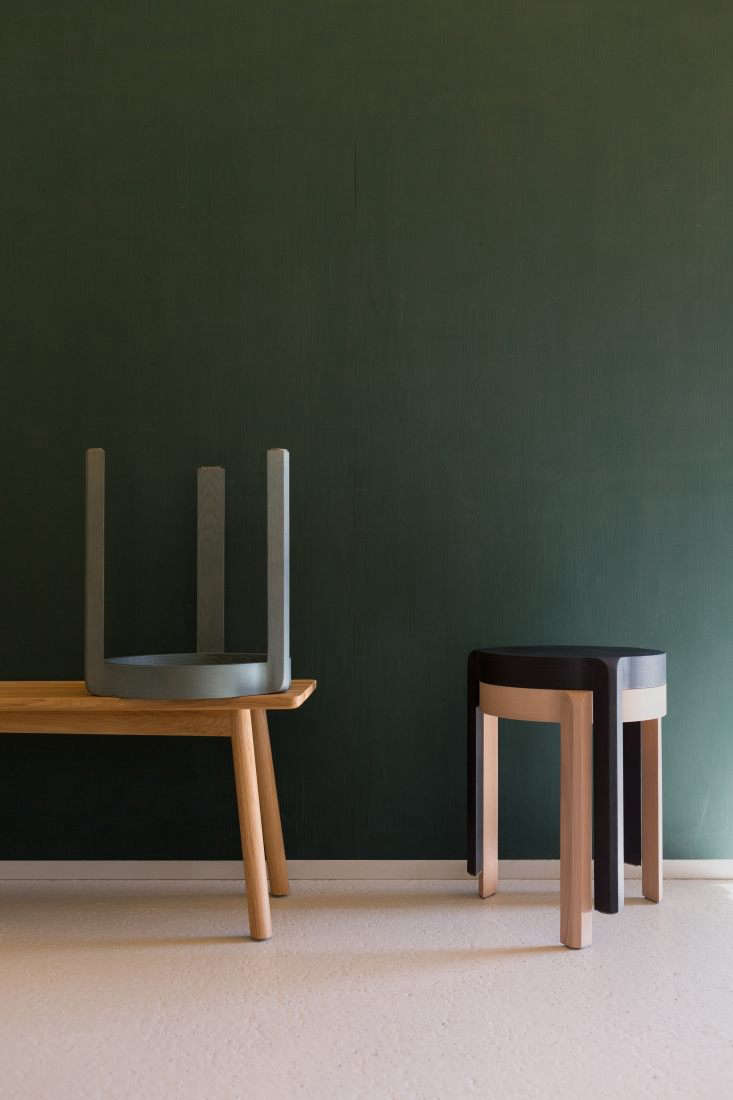 Stattmann's wood comes from controlled sustainable forests in Germany (the specific suppliers are listed on their site). Waste is also factored into each project and kept to a minimum.
Table, Bench, and Chair
The Profile Table comes in both round and square designs, each in three sizes. The round starts at €820. Photograph by Thomas Walter via Atelier Ordinaire.
Profile Chairs, €493, are made of ash and available in 11 colors. The chair legs are finished with hardwearing natural rubber stoppers that "will not leave prints on the floor."
Hanging Systems
Shelving
Stattmann Neue Moebel ships internationally. Its pieces are available in design stores throughout Europe and, we hope, the company soon will have a showroom in the States.
Here are three more standout workshops: