Eli and Allison Cohen weren't looking to move. But when the old shingled house on their jogging route came up for sale, they succumbed to its surroundings—redwood forests, views of Mount Tamalpais, just two blocks from downtown Mill Valley, CA—and its future promise. "The place itself was charming but in tough shape," Eli tells us. "The interior had been chopped up over the years, the floors sloped, there were funky stairwells all over, and almost none of the rooms took in The View." On the up side: "The structure was bigger than the planning commission would approve of for a new house today, and we wanted a lot of space—we have three young daughters."
It helped that the couple had experience—six years ago, they built themselves a house in the Marin County city and Eli works in real estate development. Gut renovation, he discovered, is so much harder than starting from scratch. The couple teamed up with Mill Valley veteran architect Heidi Richardson, a great great granddaughter of H.H. Richardson, and SF rising star interior designer Katie Martinez, who, following Dartmouth and Parsons, got her start working for Andre Balazs and Nicole Hollis. Old guard and new, owners and crew all report a rare remodeling experience: a happy and fulfilling creative collaboration with no regrets or bankruptcies. Eli and Allison knew what they wanted and Richardson and Martinez delivered it: an airy, comfort-filled, modern-traditional house that fully celebrates the wonders right outside.
Photography by Suzanna Scott, courtesy of Richardson Architects and Katie Martinez Interiors.
"We kept the exterior envelope and lowered all the floors inside, sort of like building a ship in a bottle," she says. "We basically built a new home inside of a tent," translates Eli. "The house is one of the oldest in Mill Valley and is considered historical, so we were limited on what we could do to the exterior. We ripped out all of the floor plates inside and moved them down to turn the attic of the old home into a real floor, and moved everything else down to get more ceiling height on the main level and master bedroom level." There are four stories: a newly excavated basement with a playroom and home offices, living floor, and two bedroom floors, all connected by a new central stair—4,800 square feet in total. (Scroll to the end to see a drone-view of the property and its pool and deck, a rarity in hilly Mill Valley.)
Shown here is the family room that's part of the kitchen. The sectional sofa is a custom design upholstered in a lilac outdoor fabric.
The gray-stained custom table—"distressed, so the family can use and abuse it"— is surrounded by Windsor-style Wayland Sack-Back Armchairs made by O&G Studio of Warren, Rhode Island. Note the shiplap ceiling and the palest gray walls (in Ammonite from Farrow & Ball)—classic millwork and a quiet but nuanced palette run throughout the project.
The built-in fridge is a Sub Zero and the 48-inch range is by Wolf. With Martinez, Allison mapped out where everything would go—and she says that yes, the kitchen and the house in general are pretty much always this tidy: "Our cabinets are organized and labeled, and I try not to let junk find its way in." She wanted to keep appliances out of view, so the microwave, blender, and coffee maker are in the cabinets that flank the range.
The wide-board flooring is oak with a light fuming to give it a bit of a gray cast.
Eli's real estate connections helped: the general contractor, finish carpenter, and floor installer were all people he brought in, and he himself was on the site daily; he says they plan to stay for good.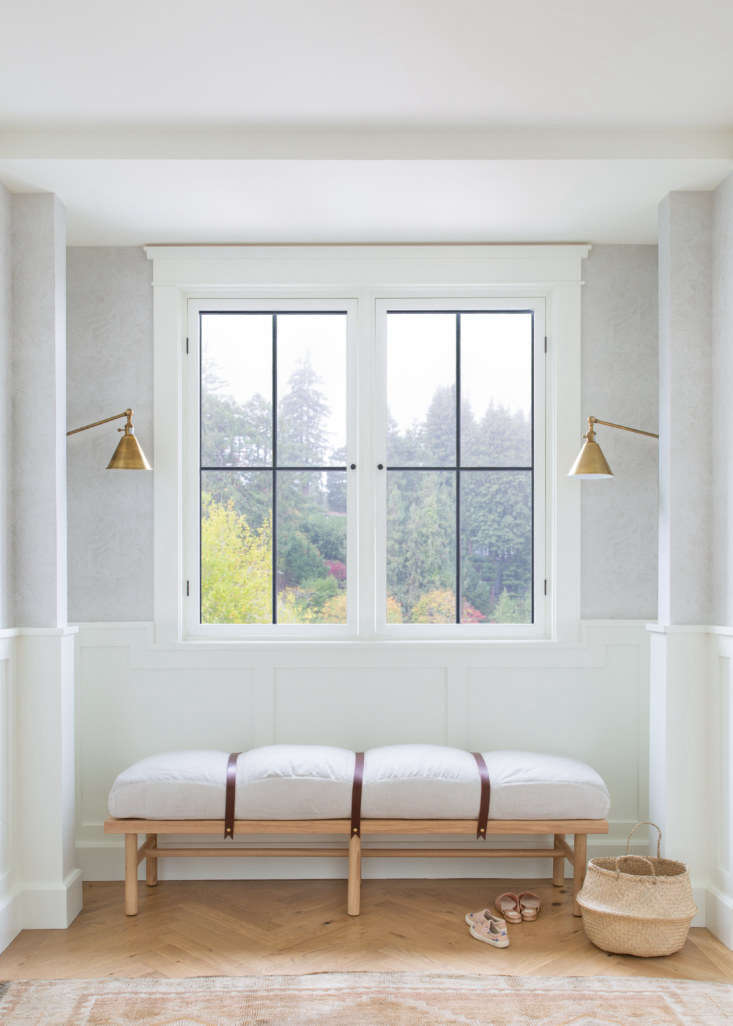 The Carrara marble sink has a Waterworks polished nickel faucet and niche shelving: thanks to an adjoining dressing area, the room could be unencumbered by a lot of storage.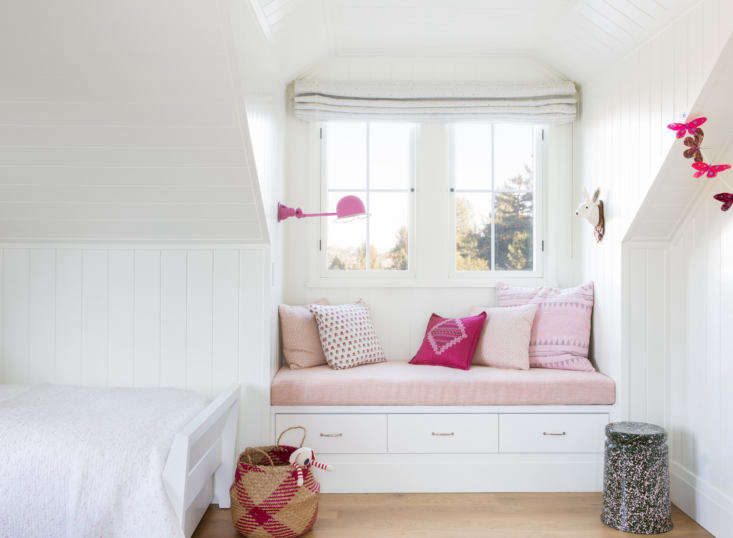 The pink sconce is Jielde's Signal 1-Arm Wall Light. The Max Lamb Splatter Stool is from the MoMA Design Store.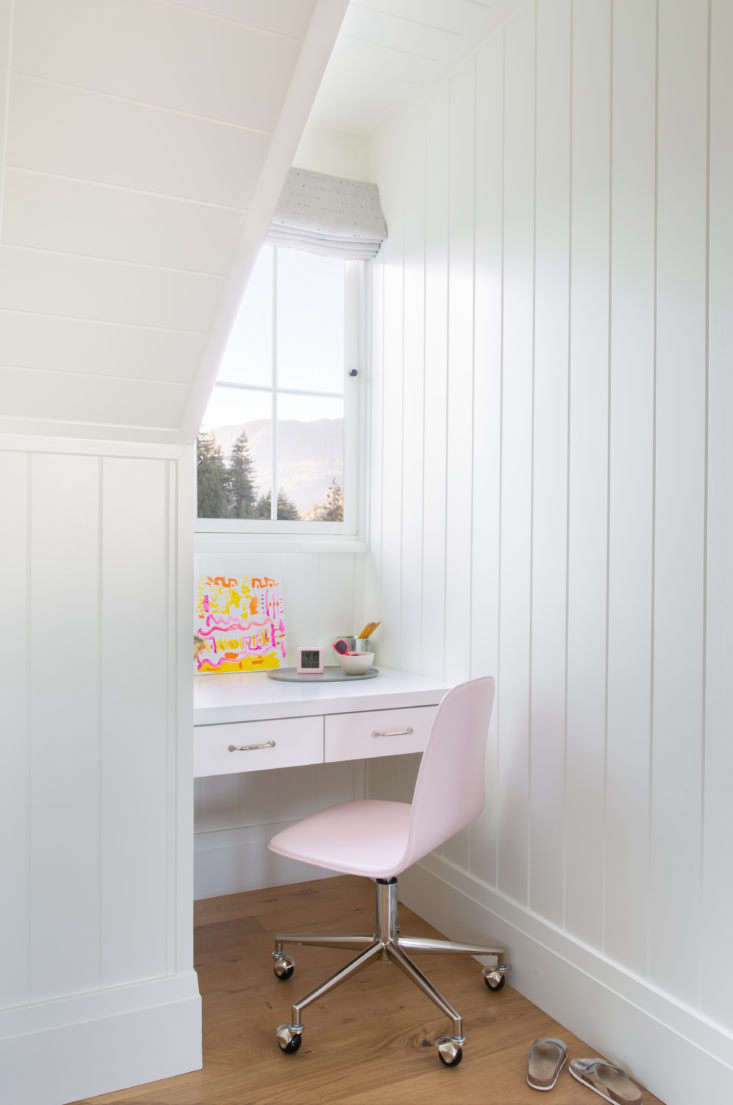 Our own Julie Carlson and Michelle Slatalla live in Mill Valley; here's a look at Julie's house and Michelle's Grottage: A Garage-Turned-Guest Cottage.
More Mill Valley: