Our friends at Makers & Brothers, Jonathan and Mark Legge, like to keep things in the family. But they've generously shared their mother's recipe for elderflower cordial syrup, the basis for a delicate, old-fashioned floral drink beloved in Europe but little-known in the US. The Legges have also agreed to reveal their secret source for elderflowers (word of warning: you may have to travel to Dublin for the full experience).
"Elderflower cordial has always been a favorite in our family; everybody from our granny to our dad loves the stuff. We learned from our mum, who has been making it for us since we were tiny," the brothers say. "To us it is the taste of carefree, long summer days."
Makers & Brothers' Elderflower Cordial
• 25 flower heads (be sure to use elderflowers; they grow in large clusters and each constitutes a head)*
• 3 lbs cane sugar
• 2 oz lemon juice
• 1 1/4 quarts boiling water
• 2 lemons (zest and slice)
*Elderflowers are white blossoms that bloom in June on elderberry tree shrubs also known as elders. They grow in temperate to subtropical regions, and are commonly found in the UK and Europe, as well as just about all over the US; this USDA map shows where elderberries thrive stateside.
To see how it all comes together, follow the instructions below.
Photos via Makers & Brothers. 
Above: Begin by finding elderflowers in bloom. 
Above: The Legges' source unveiled: "We climb the walls into our local ruined abbey." For more clues, visit the Makers & Brothers' Shed, the Legges' shop in Abbey Court, in Blackrock County, Dublin, and they'll point the way to the abbey.
Above: Elder branches against the blue skies of Dublin. 
Above: The elderberry's flowers grow in large heads; each of the individual flowers has five petals.
Above: An Oval Willow Basket woven by Kathleen McCormick gently holds the elderflowers.
Above: Domino, the Legge family dog, guards the day's pickings.
Above: The ingredients are ready to go.
Above: It's a good idea to shake out the elderflower heads, in case there are any little creatures hiding inside. Base stems can be left in place.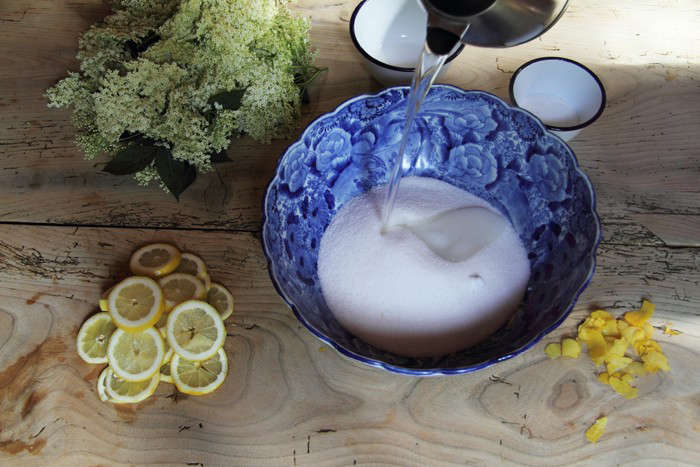 Above: Add sugar and lemon juice to a large mixing bowl, and pour in the boiling water.
Above: Stir until the sugar dissolves.
Above: Drop in the lemon slices and zest.
Above: Add the elderflower heads.
Above: Gently stir it all together with a wooden spoon. Then cover and allow to steep for 24 hours. 
Above: Strain the infusion through a fine sieve and pour the liquid into a decanter–shown here, a Carafe and Glass Set by Jerpoint Glass. To serve, dilute the cordial to taste with flat or sparkling water and lemon slices. Or add to a gin and tonic, a vodka and soda, or even Champagne. Then raise a toast to the delights of summer.
Homemade cordial is, of course, the ideal (as is clambering around ruins to gather the flowers), but you can also buy a 500 ml bottle of Belvoir Elderflower Cordial for $8.50 from Jolly Grub.
We've got more easy summer drinks recipes to try, including a Hibiscus and Lime thirst quencher, Lavender Soda, and Summer Goddess Sun Tea with Chamomile Syrup. 
Stateside, Tama Matsuoka Wong forages for elderflowers, too. See: Foraging for Dessert.
You need to login or register to view and manage your bookmarks.