Ever since her first visit to the Cambridge art gallery Kettle's Yard, interior designer Virginia White has been preoccupied with midcentury art; join us on a tour of her Islington house.
Our friend (and UK Vogue contributor) Jo Craven tipped us off to the charms of Virginia White's North London home; for the past 30 years, White (who worked for John Stefanidis) has trawled junk shops, auction houses, and galleries in search of treasures from the 1930s to 1960s British art scene. "I have a grid reference in the back of my mind, thanks to my art history degree," White says of her collection, which features a roll call of British artists ranging from Ben Nicholson, Patrick Heron, David Hockney, Victor Pasmore, to Patrick Caulfield and Howard Hodgkin, along with plenty of unknown artists. Nothing is put in a shrine; it's all a moveable feast: "I'm always adding to it, plus the family have to fit around in it, too."
N.B. In autumn 2012, White will be staging a pop-up shop offering a limited-edition housewares line. For details, contact Virginia White.
Photography by Colin Hampden-White unless otherwise noted.
Above: White's first-ever auction purchase? "I hadn't a clue how to bid, and I used my granny's inheritance to buy this John Singer Sargent framed drawing. I was a bit freaked out, especially when the next day I was phoned by Berkeley University wanting to buy it from me." The black and white lampshade is by Claire O'Hea, and the sculpture, from Core One antiques in London, is from a French chateau. The silver cups were commissioned from Malcolm Appleby, jeweler to the Queen, and White bought one for each of her three girls. The porcelain nude sculpture is by up-and-coming sculptress Rachel Kneebone, who is represented by White Cube.
Above: "The chandelier was the first item I bought for this house, a starting brushstroke," White says.
Above: In the upstairs drawing room, a painting by Brian Ilsley, a London abstract expressionist artist who once worked in St. Ives, hangs above the fireplace. The smaller painting, artist unknown, is of a Greek island and was found in an auction house. The rug, by Kate Blee, is from Christopher Farr. The mid century leather and canvas campaign chair is by Kaare Klint.
Above: White's kitchen features Arabiscato marble countertops and a trio of pendant light fixtures by Tom Dixon.
Above: An Antelope chair by Ernest Race (made for the Festival of Britain in 1951).
Above: White bought the Iraqi rug (without even unrolling it) at Criterion Auction House, only to discover it fitted the room perfectly and had the lime green, turquoise, and pink shades she had envisaged for the room. On the walls is a still life drawing by Ben Nicholson as well as a piece by Elizabeth Frink. The trio of black lacquered tables from the 1950s never went into production; White will be offering a version of the tables in her upcoming pop-up shop.
Above: In a sitting room, 17th century Delft tiles found at Swaffhams in Somerset surround the fireplace. A horsehair-stuffed chair, found at a junk shop, is covered with fabric from Abbott and Boyd. On the mantle, a Majolica plate mingles with a clutch of Eric Ravilious for Wedgewood mugs that White has collected over the years. The cushion is by Clarissa Hulse and the sheepskins are from Scotland.
Above: The chairs in the master bedroom (from White's favorite antiques shop in Honiton) are covered in FEZ Steel on Tan fabric by China Seas from Tissus d'Hélène. The blinds are made with fabric from Christopher Farr.
Above: The wallpaper in the guest bath is Manor House by Marthe Armitage, personalized to White's own color specifications. A fabric swatch from her first employer, John Stefanidis, hangs behind the glass on the door. An 18th-century English fretwork mirror hangs next to a junk shop find.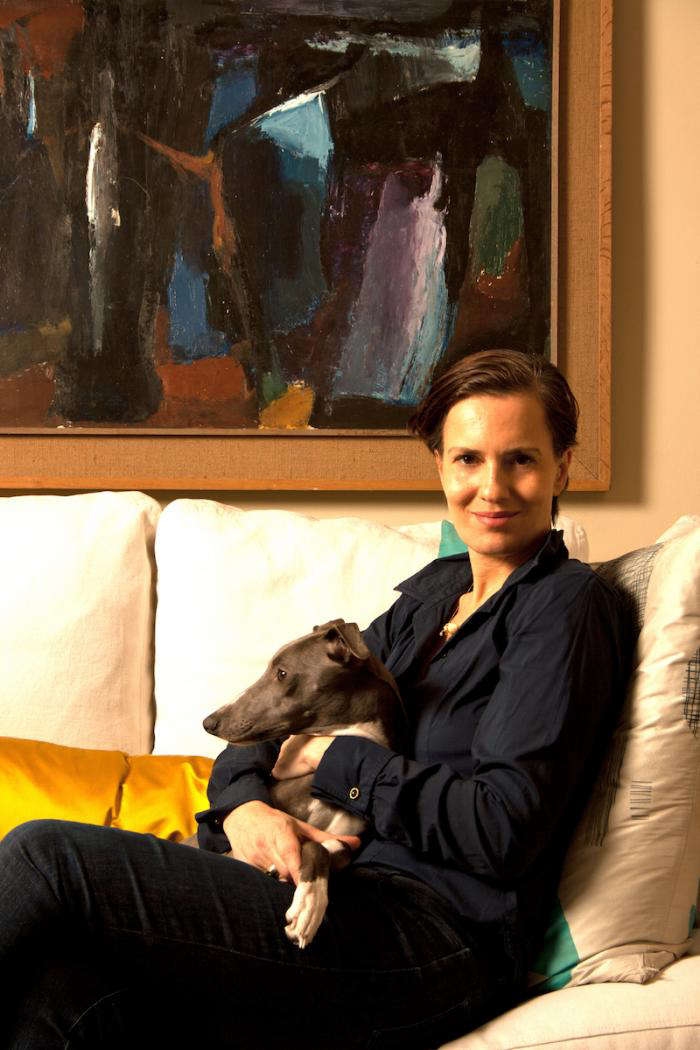 Above: Virginia White at home with her whippet, Moss. Photograph by Lucinda Douglas-Menzies.
(Visited 116 times, 1 visits today)