When we first featured the Catskills farmhouse of writer Lisa Przystup, it was the summer of 2017; the first solar eclipse in a century was about to take over the sky and cast little moon-shaped shadows on the ground; and Lisa and her husband, musician Jonathon Linaberry, then Brooklynites, had just found an 1800s farmhouse on a hilltop in Delhi, New York, to serve as their weekend escape. It became their weekend project, too: painting nearly every interior surface creamy white, DIY-ing a brass backsplash in the kitchen, knocking out some walls. We loved the thoughtful, unfussy, pared-back nature of the place—though, Lisa told us at the time, it was still a work in progress.
So when we spotted updated shots on Jenni Kayne's site Rip & Tan, we figured it was time for a round of Where Are They Now: Upstate Farmhouse Edition.
What's changed? "SO much," Lisa wrote to me via email. "We were still understanding how we'd be using the house and what made sense for the space. After living in a 500/600-square-foot railroad apartment [in Brooklyn] where it felt like we were living on top of each other and buried under tchotchkes, it felt really good to just take a deep visual breath and leave room for space.
"I started hankering for layers and warmth and texture at about the two year mark—pillows and quilts and blankets and filling out nooks with things. Also this magical thing ends up happening the longer you're in a space: You start living in it, like really living in it, and making memories and adding emotional layers—bits and pieces of memories, drawings from my godsons, gifts from family and friends, dried bits and pieces from nature walks—and that's what really starts to make everything feel filled out."
N.B: See Lisa's book  Upstate: Living Spaces with Space to Live, with photography by Sarah Elliott.
Photography by Christian Harder, courtesy of Rip & Tan.
Case in point: The once-minimal dining nook now displays a few favorite finds—plus curtains made from linen hand towels and checkered cushions on the Thonet chairs (a Craigslist find).
Note the beehive tucked in the corner—a bit of the collected ephemera found on nature walks and on the couple's five acres.
Above: The couple also limewashed the walls downstairs with Portola's Lime Wash, a subtle update from all-white paint.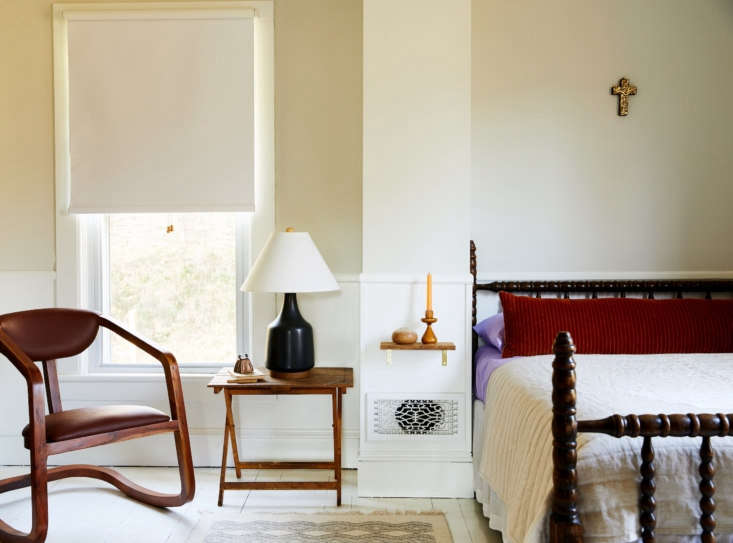 "The rest of the attic has been turned into a print/music studio for Jonathon—he's a musician and a printmaker, so now he has a space where he can do both. We were both working at the kitchen table/on the couch/at the dining room table, and Jonathon was practicing in a bunch of random spaces and was working on prints in the attic at a slapdash work station—so committing a whole room [as] a space for work and creating has made a huge difference."
For the full look inside Lisa's place, head to Rip & Tan, and for what it looked like when we first featured it, see The Catskills Farmhouse of Two Brooklyn Creatives, Weekend DIY Edition.