For months we've been catching Instagram glimpses of the 1920s hunting cabin that California couple Serena Mitnik-Miller and her husband, designer and builder Mason St. Peter, have been remodeling in Topanga Canyon. We were especially interested in the kitchen—taken down to the rafters, rebuilt with custom plywood cabinets, and stocked with eclectic wood and ceramic finds—that Mitnik-Miller (who owns General Store, the housewares shop with locations in San Francisco and Los Angeles) posts under the hashtag #ourtopangahome. So when we spotted the finished project on Jenni Kayne's blog Rip & Tan, we turned to Instagram to sleuth out all the details—and find out where they hid the appliances. Here's a look.
Photography by Nicki Sebastian, courtesy of Rip & Tan.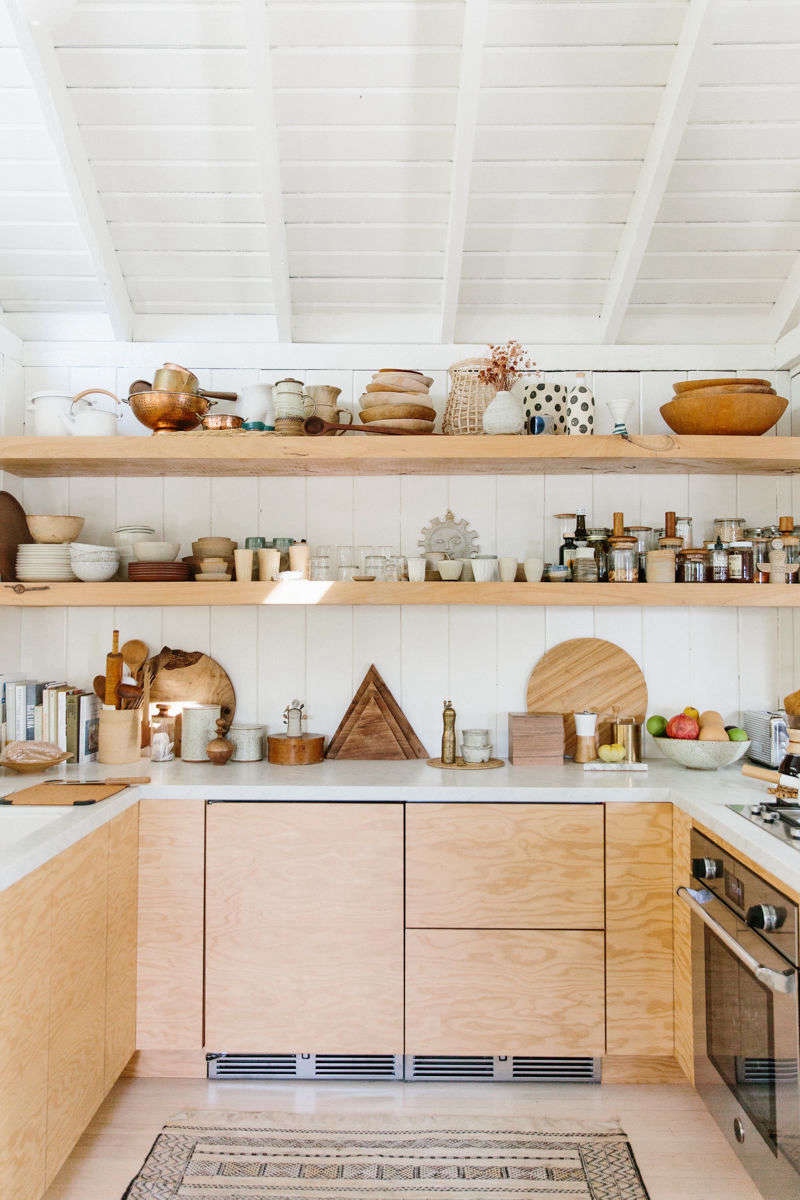 "After years of searching, bidding, winning, and heartbreak, a friend tipped us off to this house and it was exactly what we were looking for: a fixer-upper with good bones and history," Mitnik-Miller says. But the original kitchen had limited cabinets and a large, clunky refrigerator that took up most of the footprint. The couple knocked down some surrounding walls, then had marine-grade Douglas fir plywood cabinets custom-built in a U-shape configuration to maximize counter space and create a sense of division from the rest of the living area. An under-counter fridge and freezer system (artfully concealed behind wood doors) saves space.
Above: The shelves look textured and eclectic, rather than overcrowded, thanks to the natural materials and neutral colors of the kitchenware.
Among the stacks: Wheel Ceramic Co. Wine Cups ($30), a well-patinated Athena Brass Summer Mill ($85), and Dry Goods Vessels by Fort Standard ($88 each), all available via General Store.
Shiplap-style boards add subtle texture to the walls. "The whole house had many different iterations of wood paneling from the past 80 years. It didn't age well, but we felt it fit the house, so we painted it white, Behr's Swiss Coffee," Mitnik-Miller says. For more, see Expert Advice: The Enduring Appeal of Shiplap.
The most challenging part of renovating a 1920s hunting cabin? "Nothing is level or square," Mitnik-Miller says.
N.B.: For the full house tour and interview, head to Rip & Tan. And check out the couple's Instagram feeds for updates: @maraserene and @masonstpeter. This post is an update; the original ran on March 30, 2017.
We love kitchens that walk the line between curated and artfully cluttered. For more, see our posts:
(Visited 717 times, 1 visits today)