Here's a chance to incorporate an elegant piece of Henrybuilt furniture into an existing space without purchasing an entire kitchen system. Seattle-based Henrybuilt's new line of kitchen islands provides several options for adding workspace for food preparation, cooking, entertaining, and clean-up to your kitchen. Like all Henrybuilt products, each island is built to order and can be specified to include cooktops, ovens, sinks, and trash and recycling units. The islands are available in three basic configurations: the first group features open steel frames; the second features mobile units on lockable casters; and the third features floor-mounted units. Contact Henrybuilt for pricing and ordering information.
See our previous posts on Henrybuilt Kitchen Systems, including their lower-cost Viola Park Kitchen Systems and Henrybuilt Wardrobes.
Above: A solid walnut kitchen with smooth work top and two storage drawers; a solid walnut slatted shelf on the lower level provides open storage.
Above: Different customizable drawer storage options are available.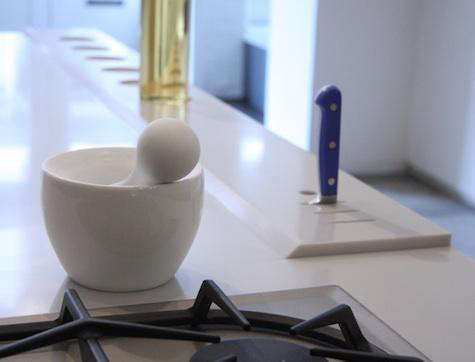 Above: Add-ons include in-counter knife and bottle storage.
You need to login or register to view and manage your bookmarks.