To say that Kai Avent-deLeon is juggling a lot would be an understatement. She's the owner and visionary behind the Brooklyn concept shop Sincerely, Tommy (and its in-house cafe), and she's currently overseeing construction on a new project, a restaurant and boutique hostel set to open in the fall—all in the Bed-Stuy neighborhood where she was born and raised. She's a designer in her own right, creating pieces for Sincerely, Tommy's in-house clothing line and sculptural furniture for her own apartment, and painting on the side.
But entrepreneurship—and an appreciation for design—runs in the family. Avent-deLeon's grandmother bought a handful of buildings in Bed-Stuy in the 1980s that she now rents out, and her mother is also in real estate. "They both have such a strong sense of individual style," says Avent-deLeon, 30. "Every holiday growing up, my grandmother would have a guy come over and decorate her apartment. He had very eccentric style, and she'd let him have free rein. Seeing things like that and the art shows she would host and her very expressive style helped me develop my own."
When a unit opened recently in one of her grandmother's apartment buildings on Jefferson Avenue, the women worked to renovate the kitchen and bath on a budget, leaving the original dark moldings and mirrors intact; then Avent-deLeon fitted it with a shop owner's eye and objects picked up in her travels. She and her partner moved in three months ago—one week after their baby was born. Take a look at the finished apartment, by turns gallery-like and playful.
Photography by Mel Walbridge for Remodelista.
Avent-deLeon designed the red dining chairs with arched backs, and hired Sammy Leon, a local woodworker who builds cabinets for her grandmother's apartments, to make them.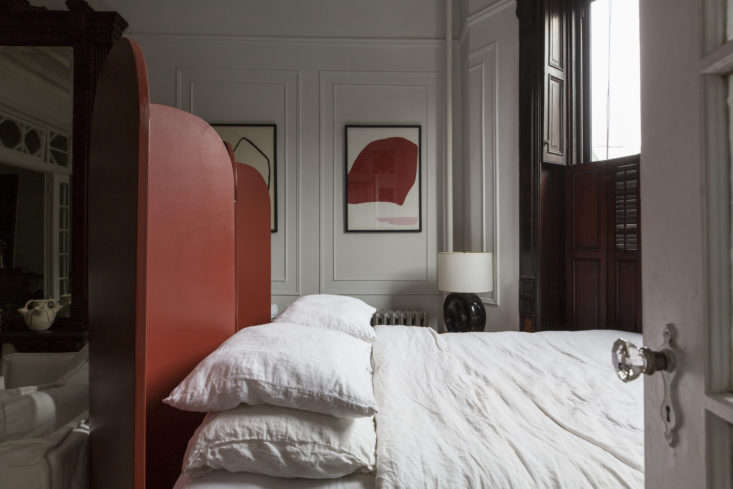 Note the original details, like the glass door knobs.
N.B.: Follow Avent-deLeon on Instagram at @kaiaventdeleon.
Take a look inside more New York apartments:
You need to login or register to view and manage your bookmarks.