Inspired by her Mexican heritage and Aztec culture, LA artist Dora De Larios knew from age eight that she would become an artist. After attending the University of Southern California (where she trained under acclaimed ceramic artists Vivika and Otto Heino), De Lario and a fellow classmate formed Irving Studio, a workshop of ceramicists, as well as a painter and a sculptor, that became part of LA's burgeoning arts scene in the late 1950s.
A career breakthrough for De Larios came in the late seventies, when she was one of 14 potters commissioned by First Lady Rosalyn Carter to make 12 place settings for the White House's annual Senate Ladies' Luncheon. "What is so exciting to me is that the heritage of our crafts has not been lost under the weight and speed of advancing technology," Rosalyn Carter wrote in a letter to to the senate wives. 
Jumping forward several decades, De Larios was honored with a 50-year retrospective, Sueños/Yume, in 2009 at LA's Craft and Folk Art Museum and her ceramic sculptures were part of a 2011 exhibition at the Getty Musem. And Irving Place Studio was revived in 2012; now a collaboration between De Larios, her daughter Sabrina Judge, and son-in-law, Aaron Glascock, the workshop still specializes in simple, hand-thrown, everyday ceramics of the sort that caught Roslyn Carter's eye.
Visit the Irving Place Studio to see the full range. Select pieces are also available via Alder and Co. Here's a collection of white ceramics currently on offer:
Above: The Irving Place Studio Porcelain Serving Bowl is $180. All bowls and plates are thrown on a potter's wheel by a master ceramicist. All pieces are handmade in LA.
Above: The Irving Place Studio Porcelain Basic Bowl is $65. The studio's bowls and plates are made of porcelain or stoneware.
Above: The Irving Place Studio Shallow Basic Bowl is $68. Most of the clay and glazes come from the US.
Above: The Irving Studio Place Porcelain Cereal Bowl is $48.
Above: The Irving Place Studio Drinking Bowl is $38, ideal for green tea.
Above: The 12-inch wide Irving Place Studio Large Salad Bowl is $220.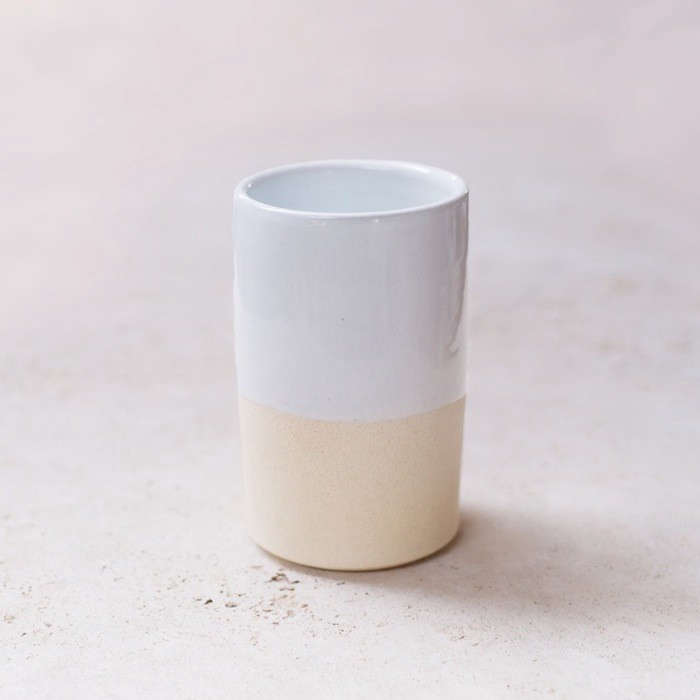 Above: A vase in a cake finish (a white glaze on blonde stoneware). Thanks to her decades of expertise, De Larios is the studio's resident glaze expert and cake is Irving Place's latest glaze and clay combo.
Above: The Drinking Bowl in cake. The cake finish is available in all bowl and plates. Contact the studio for pricing.
Above: A porcelain plate being dipped in white glaze. Each piece is worked on at least 12 times. 
Above: The Irving Studio Place kiln. 
Above: The blue-and-white porcelain setting that De Larios made for Rosalyn Carter's White House's annual Senate Ladies Luncheon in the 1970s.
Above: De Larios posing in her kiln in the late 1950s.
Interested in seeing more ceramics? Have you heard of Coors labware porcelain? Have a look at Izabella's Design Sleuth: The Porcelain Funnel to learn about the Colorado company. And discover the latest Danish ceramics by visiting the Tortus Copenhagen Studio. 
You need to login or register to view and manage your bookmarks.